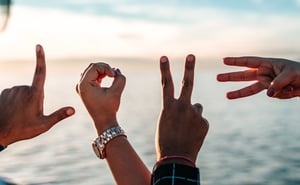 Tina Turner is well known for delivering the powerful song What's Love Got to Do With it? That song was rolling around in my head after a recent webinar call with John Kania about the launch of the Collective Change Lab.
John Kania is the co-designer and co-author of Collective Impact, a framework for tackling complex community challenges and one of the most downloaded articles featured in the Stanford Social Innovation Review. John has been an advocate of designing collective efforts to improve population level outcomes.
Watch People, Practice, and Transformational Change, featuring John Kania
The vision of the Collective Change Lab is to create a world where our approaches to collective change radically expand empathy, human potential and justice. The work will focus on transformation through research, practice and leadership development.
John raised two points during the webinar which continue to sit with me. The first point is about how we talk about complex issues. Often, we try to simplify the complexity in a way that we hope makes the issue more accessible to people. John says this is the wrong approach. He advocates instead that we invite people in to thinking about the whole picture.
For example, solving poverty can be achieved by increasing income. While this is true, not all poverty will be ended solely by increasing income. Poverty is complex and the causes of poverty include lack of access to financial resources, but might also include health and disability challenges, mental health and addictions, homelessness, lack of family and other social supports, etc.
The second point John raised was the importance of weaving love into all that we do. He suggested that we must do the work of community change with love in our hearts and to tackle this work with spirit and connection.
This is not the first time that expressing love in social change work has been front and center in my thinking. Adam Kahane, author of Power and Love – A Theory and Practice of Social Change discussed love in his 2010 book. Adam writes about the duality of both power and love. He writes less about romantic love but rather the love that creates wholeness and completeness. But Adam also warns about the form of love that is smothering and destructive.
As Tina, John and Adam identify, love has a lot to do with it. We need to embrace the importance of love in relationship and connection. Tamarack works to engage citizens in deepening community with one another, in creating and embracing the love and caring that can be built between neighbours. In embracing each other with love, kindness and caring, we can change others and change ourselves. This is a vision that John Kania and his colleagues are bringing to the Collective Change Lab.
Take Your Learning Further