About Tamarack
The Tamarack Institute is a connected force for community change.
The Tamarack Learning Centre
Tamarack's Learning Centre exists to empower community changemakers to achieve greater impact. We draw upon our 15 years of experience leading community change and advancing practice to support municipalities, funders, non-profits, and community leaders through on-demand coaching and consulting, in-person and digital training, and publications that guide change efforts. Last year alone, over 24,000 changemakers engaged with us and over 90 client organizations contracted us for consulting services to support them through their most pressing challenges.

We support our learning network in developing five interconnected practices that lead to community change:
Collective Impact: How can we mobilize collaboration across sectors for systems change?
Community Engagement: How can we engage the community to create and realize bold visions for the future?
Collaborative Leadership: How can we bring the right people together in constructive ways?
Community Innovation: How can we create, test, and scale new approaches?
Evaluating Impact: How can we identify and amplify what works?
As a registered charity, all of your investments as clients and learners goes back into providing content and tools on an open-source platform to build the capacity in the field. By working with us, you help support the efforts of changemakers in your community and worldwide.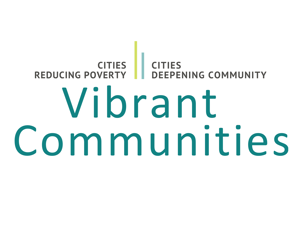 Vibrant Communities
In Vibrant Communities we support cities and local leaders to develop and implement large-scale change initiatives through two learning networks:
Cities Reducing Poverty is a network of more than 175 cities represented by 61

r

egional partners who are working collaboratively to end poverty in their communities.




Cities Deepening Community

is a network of 67 cities seeking to strengthen neighbourhoods and 25 cities developing community plans to grow citizen engagement, civic leadership and a sense of belonging.
Our belief is that when we are effective in strengthening community capacity to engage citizens, lead collaboratively, deepen community and reduce poverty, our work contributes to the building of peace and a more equitable society.


Our Vision
Building a connected force for community change.
Our Mission
Collaboratively create vibrant communities by engaging learning leaders. When we are effective in strengthening community capacity to engage citizens, lead collaboratively, deepen community and reduce poverty, our work will contribute to the building of a more equitable, prosperous, and peaceful society.
Our Story
Tamarack was founded in 2002 by Alan Broadbent of the Avana Capital Corporation and Maytree (Foundation) and Paul Born, President of Tamarack. Their hope was to create an institute that would deeply understand community change and would help organizations and citizens work better together for a collective impact.
As a small organization, Tamarack had two big goals. The first was to establish a learning centre that would provide research and document real stories, exemplary practice and effective applications for community change. Today more than 20,000 members participate in the Tamarack learning community and we provide nearly 14,000 people days of training a year. Our learning community members support our work by co-generating knowledge and they contribute more than $2 million annually to sustain this activity.
Our second big goal was to apply what we learned to end poverty. Since then, we have effectively helped more than 200,000 households rise out of poverty and have engaged more than 70 cities as partners as we continue pressing toward our goal of changing cities into places that work for all.
As communities everywhere face increasingly complex challenges – from climate change to economic inequality to disruptive technologies – Tamarack's expertise is more relevant than ever. We will continue to grow our learning community to engage citizens in working together to deepen community, rebuild neighbourhoods, make it easier for us to care for each other, and improve our cities.
We embrace the words of Margaret Wheatley, that "all change, even very large and powerful change, starts from very small conversations held among people who care." We welcome you to the conversation.


Milestones
We're celebrating the milestones from the last 15 years to mark our journey of community change:
2001

Tamarack Institute for Community Engagement is co-founded by Paul Born (President) and Alan Broadbent (Chairman). Maytree and The J. W. McConnell Family Foundation are our key donors.

2002

Tamarack partners with J. W. McConnell Family Foundation and Caledon Institute on Social Policy to create Vibrant Communities- Cities Reducing Poverty. Mark Cabaj is hired as Vibrant Communities First Executive Director.

Engage, Tamarack's e-magazine is launched growing to 14,000 subscribers by 2017.

Vibrant Communities Canada launches a 10-year experiment in poverty reduction with 13 Trail Builder cities across Canada.

2003

Vibrant Communities experiments with a broader learning community that includes a website, tele-learning, and action-research projects.

2005

Tamarack's signature 5-day learning event, the Community Change Institute (formerly Communities Collaborating for Impact), is launched. By 2017, this learning event is attended by nearly 3,000 learners.

2008

Tamarack publishes Creating Vibrant Communities – How Individuals and Organizations from Diverse Sectors of Society are Coming Together to Reduce Poverty in Canada, (Paul Born – Editor) capturing and sharing the stories of Vibrant Communities Trail Builders.

Paul Born publishes Community Conversations: Mobilizing the Ideas, Skills, and Passion of Community Organizations, Governments, Businesses, and People. (This book has sold more than 20,000 copies.)

2010

Vibrant Communities hosts a Strategic Dialogue on Poverty Reduction with 45 leaders from across Canada to determine the next steps in growing this national program. Liz Weaver becomes Vibrant Communities Second Executive Director.

2011

Tamarack publishes Cities Reducing Poverty (Mark Cabaj Editor) which details six case studies of community efforts to reduce poverty.

2012

Results from the Trail Builder cities reducing poverty show that the experiment has supported nearly 294,000 Canadians on their journey out of poverty. This successful model is opened to as many cities as possible.

2013

Tamarack learning resources and workshops are expanded into 5 core idea areas: Collective Impact, Community Engagement, Collaborative Leadership, Community Innovation and Evaluating Community Impact. (Liz Weaver becomes Vice President, Sylvia Cheuy becomes Director, Deepening Community, and Lisa Attygalle joins Tamarack as our Director of Engagement.)

2014

Paul Born publishes his best-selling book Deepening Community – Finding Joy Together in Chaotic Times. (By 2017 more than 15,000 sold.)

Tamarack launches its Cities Deepening Community practice area to explore practical ways to create stronger neighbourhoods and more connected communities.

2016

Cities Reducing Poverty now has 57 members in its national network – nearly 75 individual cities, towns, and communities – working together to reduce poverty in Canada. (Mark Holmgren joins us to direct Cities Reducing Poverty.)

2017

24,000 people are part of Tamarack's learning community, where they are equipped and inspired to realize bold visions for community change. This includes 17,596 learners from Canada and 4,680 from the USA and 2,169 from the rest of world (most notably from Australia, New Zealand, the United Kingdom and Denmark)

On the Eve of our 15th anniversary Tamarack makes a bold move and appoints Liz Weaver and Paul Born as Co CEO's. The organization moves forward in a bold new way growing learning opportunities and expanding Cities Reducing Poverty and Cities Deepening Community for members across North America and around the world.
Learn more about the work we do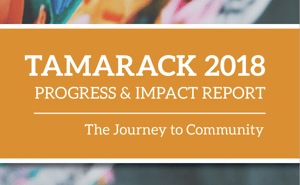 We invite you to read our Annual report, which reflects on Tamarack's journey through 2018 and our growth along the way. We are incredibly thankful to the 23,277 learning partners in over 2,300 cities across Canada and beyond for being a part of this journey with us over the past year. We cherish the opportunity to work together to navigate community change and to build vibrant places to live and grow.
In this report, we have decided to focus our attention not just on what we accomplished at Tamarack this year, but also on the impact our network of learners, partners and members have had in their communities.
Annual Reports from previous years are also available:
---
Our Partners
Thank you to our most generous funders and partners who make our work possible.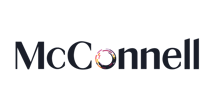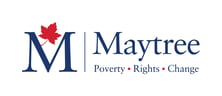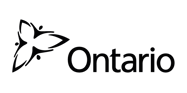 ---

Our Supporters
Thank you to our supporters for in-kind contributions.





We also want to recognize and thank our many event and program sponsors and partners, who contribute significantly to growing our learning community. Our full list of partners and supporters is published in our Annual Report.