About Tamarack
The Tamarack Institute is a connected force for community change.
We work with leaders in non-profits, governments, businesses and the community to make work of advancing positive community change easier and more effective. We do this by teaching and writing about collective impact, community engagement, collaborative leadership, community development, and evaluating community impact. We turn theory into action by connecting people into networks to share and learn together, and we work one-on-one with organizations to help advance their specific agendas.
We work deeply in two Practice Areas to advance community change: Vibrant Communities: Cities Reducing Poverty and Deepening Community.
Vibrant Communities: Cities Reducing Poverty is a network of 57 cities who are creating comprehensive poverty reduction strategies to impact the lives of 1 million Canadians living in poverty.


Deepening Community explores programs, policies and practices that strengthen communities, neighbourhoods and enhance social capital.
Our belief is that when we are effective in strengthening community capacity to engage citizens, lead collaboratively, deepen community and innovate in place, our work contributes to the building of peace and a more equitable society. Our deepest hope is to end poverty in Canada.


Learn more about the work we do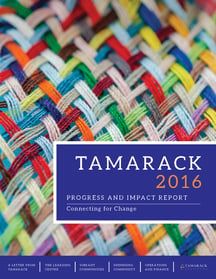 We invite you to read our 2016 Annual Report which features highlights from 2016 and our plan forward over the coming years. We also welcome your feedback and invite you to share ideas or your own stories about the work of this Institute and its meaning for you.
We thank you - our partners, members and key supporters - for your contributions to this robust learning network. Your combined efforts enable this network to be a connected force for community change.


Annual Reports from previous years are also available: