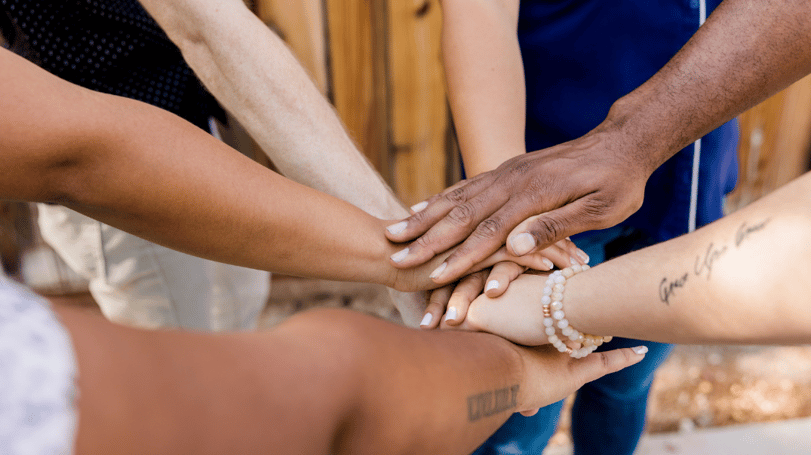 This blog post was written by Danya Pastuszek, Alison Homer, and Justin Williams.
In 2020, hundreds of you contributed to Tamarack's Future Search. That process surfaced an aspiration to use the power of our network to shape a public policy plan and name shifting policy and advocating for systems change as one of Tamarack's three strategic priorities.
In March 2023, Communities Ending Poverty leaders came together for the All-Convenor Community of Practice, to envision a world that would better support all of us. This ideal world includes:
Resilient plans, partnerships, programs, and policies that work
Living wage policies across governments and employers
Community access to actionable, timely, and disaggregated data
Accessible and quality early learning opportunities for all
Affordable, safe, and green transportation options, particularly in rural areas
Infrastructure projects that are shaped by community benefits agreements
Financial institution lending practices that position people to build wealth

Summit for Strength
We are excited to take the next step of this work forward with you. Summit for Strength, Communities Ending Poverty's 2023 virtual national gathering, will convene learners from coast to coast to re-think resilience and to form a plan that moves beyond ending poverty and toward economic mobility in ways that honor people, partnerships, and planet. Speakers will share tools, stories, and learning that will amplify what is working, what needs to change, and how collaborative action can move us forward.
As communities navigate the impacts of the complex issues we have been facing in recent years, we seek to deepen our understanding of how each sector contributes to solution-building and change-making so 'the whole is greater than the sum of all parts.' Local governments are well-positioned to provide leadership by creating place-based 'containers for change', as they catalyze collaborative action in communities, while channeling real experiences and priorities to provincial and federal governments.


Pandemic Lessons in Poverty
In the meantime, because the persistence of child and family poverty matters to so many of you, we've been spending time digesting Campaign 2000's 2022 national report card: Pandemic Lessons: Ending Child and Family Poverty is Possible (as well as First Call's BC Child Poverty Report Card). Thank you to everyone who participated in creating these amazing resources.
Campaign 2000's report shows that, during the pandemic, child poverty rates in Canada plummeted from 17.7% to 13.5% - the largest year over year drop since the federal government promised to end child poverty in 1989. What's more, child poverty declined in every region across Canada, and the largest declines were in regions with the highest levels of child poverty, including Nunavut, Northern Manitoba, and Northern Saskatchewan. The report describes how we must disrupt income security, decent work, childcare, housing and public health systems simultaneously and center the wisdom of the people impacted by these systems. It includes 50 recommendations that align with Communities Ending Poverty's vision and remind me that we stand with millions on people who know that we can end poverty.


How You Can Help: Reach Out to Your MPs
The observed dramatic reductions in economic poverty were largely a result of temporary pandemic benefits. These benefits have now been fully retracted and so it's a good time to reach out to our senators and MPs to ask them to:

Stop pursuing families and individuals with low incomes to repay emergency pandemic benefits and to implement a CERB Amnesty
Advocate for the Canadian Disability Benefit and significantly increase the Children's Disability Benefit
Ensure that poverty reduction initiatives reach marginalized populations by removing systemic barriers to accessing programs and services
Here's a tool to help you find and connect with your MP on these or other issues that are important to your communities' work to end poverty: https://www.ourcommons.ca/Members/en/constituencies.

We hope to see on April 25-27 at Summit for Strength!