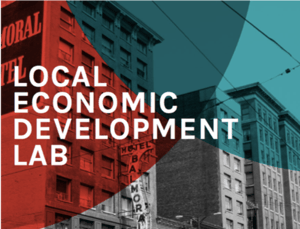 This year's Cities Innovating to Reduce Poverty Western Regional Poverty Reduction Summit will feature a workshop panel moderated by Kiri Bird, founder and Manager of the Local Economic Development Lab (LEDlab), and process designer and facilitator of Vancouver's Community Economic Development (CED) strategy co-creation. The panel will bring together community leaders from the City of Vancouver, Exchange Inner City, EMBERS Eastside Works, and the Binners' Project.
In 2016, these community groups worked together on the co-creation of a Community Economic Development Strategy for Vancouver's Downtown Eastside (DTES), which was unanimously passed by its City Council. A year and a half later, the ideas generated through and alongside the DTES CED Strategy have been brought to life. The workshop session will address co-creation, resident leadership, and systems change in Vancouver's Downtown Eastside, as the group reflects and dialogues on co-ownership and activation of City strategies in addressing complex community needs.
Eastside Works
Eastside Works is the flagship initiative of Vancouver's CED Strategy that seeks to disrupt traditional employment service models. It is a safe and welcoming space that fills a gap around employment in Vancouver's Downtown Eastside. The low-barrier income generation hub is operated from a City of Vancouver owned commercial property at 57 East Hastings St.
Eastside Works was developed following an extensive and authentic community consultation process that engaged over 80 residents, volunteers, and staff, and where more than 40 agencies and non-profit social enterprises crafted its vision. Its culture of collaboration has been retained throughout the project's implementation and delivery. EMBERS, who acts as the curator for this project, connects community partners who share skills, knowledge, expertise and resources. Together, they ensure the success of Eastside Works by applying the power of collective action to reach shared goals.
Eastside Works helps individuals to find work regardless of where they are at on the income generation continuum. Staff support clients to navigate the resources they need to earn income, for example by offering workshops and training, connecting them with job opportunities that suit individual needs and capacities, and supporting local entrepreneurs to sell their products.
Its innovative design brings the excellent work already being done in the community together under one roof. It takes a business approach to tackling complex problems and harnesses the vast amount of local knowledge and expertise available to meet community needs. Eastside Works is based on the principles of collaboration and inclusion, which are applied by a wide range of partnering agencies, businesses and residents. Overall, it provides a valuable community service by supporting its clients to meet basic needs, improve skills, and become more involved in their communities.
Read more: