This year the Yukon Anti-Poverty Coalition celebrates the 20th Anniversary of their poverty reduction work in the Yukon territory and in Whitehorse specifically. They've undergone much development and evolution as a group over the years, dependent on the current need and passion expressed by the community. They actively listen to residents, and have taken on the role as a spawning ground for other organizations and projects to take hold (ex. the downtown urban garden society, and the local Habitat for Humanity chapter).

Here, with Bill Thomas, Co-Chair of the Yukon Anti-Poverty Coalition (YAPC), we take a look at how their values and priorities are bringing local youth to the coalition's advocacy, awareness, and action priorities to reduce poverty and create stronger leaders.

Background

Q. The Yukon Anti-Poverty Coalition is a multi-sectoral coalition of 410 members including individuals, politicians, non-governmental agencies, and representatives from the business and faith communities, doing advocacy, awareness, and action work in poverty reduction. Can you briefly tell us about the Coalition's evolution over 20 years and what's brought you to this point?

A. The Coalition is a much different organization now than it was in the first 13 years. In 2009 the Coalition began working with the Government of Yukon and many other community partners to develop a social inclusion poverty reduction strategy. The collaboration and hard work that happened between the community members during this period was fantastic. Afterwards, with the release of the poverty reduction strategy in December 2012, we shifted our focus towards housing and homelessness, where there was a lot of need and energy flowing in. Now, with an established Housing Task Force and Housing Action Plan, the YAPC is again looking at poverty reduction broadly and taking aim at developing a collaborative initiative to address it. We are enjoying more financial success and community support for our goals and objectives, which has meant a lot for our work capacity. We are attributing the increase of support to be a measure of our impact on the community. The model we use is always a challenge, but is successful and the results have improved our confidence.

In the Yukon we have access to financial support systems that aren't as available in most parts of Canada. The Community Development Fund (CDF), specifically, has been very helpful in providing project funding for our work, allowing us to hire more people and scale up our impacts.


Major Accomplishments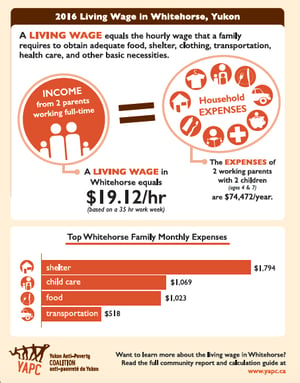 Q. If you were given space in your local newspaper to write about a major accomplishment your poverty reduction
initiative has had in the past year, what would you write about?

A. The living wage campaign – everything that has happened to get it launched, and everything yet to come. I participated in the Living Wage Leaders gathering last May (2015) during the Ottawa Poverty Reduction Summit where I got some ideas and encouragement to move forwards, as many others have across the country, with a living wage initiative in Whitehorse.

It was serendipity that Kendall Hammond (Public Policy Researcher) got in touch with us while we were trying to figure out who could do the calculation research with us. We didn't realize how much of an intensive process it would be. The initial estimate for Whitehorse had been over $20.00, however during the process we began to understand the (government) benefits that Yukoner's receive, which help to lower the wage rate to $19.12/hour.

Coming up in the fall we'd like to use Kendall's research documentation – the calculation and report – to discuss support for the living wage initiative with Coalition members. There are members at the table, including small business employers, where the implications of paying a living wage will mean the discussion is more difficult.


Priorities

Q. If a Cities Reducing Poverty member or another learner of Vibrant Communities was going to spark a conversation
with you, what are the YAPC's interests or priorities?

A.

Housing and Homelessness – we have established a taskforce at a territorial-level to deal with housing and homelessness in the Yukon
Food Security – YAPC facilitates bi-monthly food network discussions
Research and Education Group – focuses on how to do advocacy around poverty and poverty-related issues
Sally and Sisters – a program for women who don't feel safe accessing regular Salvation Army food services
Whitehorse Connects & Families Connect (new) – this event offers free services to homeless or low income individuals, including haircuts, immunization, clothing, entertainment and more, all in one place. This past March was the first Families Connect, in which our guests were families rather than individuals.


Involving Youth & People of All Ages

Q. The YAPC works with a diversity of community partners on its actions, awareness and advocacy. Can you speak to how youth have been involved in the decision-making, planning, mobilizing, and implementation of YAPC? What was impetus for involving youth, and what do they bring to the table?

A. We are grappling with the question of: how do we develop youth leaders if they're not given the opportunities to lead and develop their own capacities?

There are huge challenges that youth face in Canada's northern communities. We understand that we need to create action and support them in developing their potential and leadership. The YAPC holds space for a variety of experiences and members to come together, and are recently seeing increasing need and opportunities for youth leadership and advocacy in the community, much of which is done through our partner NGO's.

The Kwanlin Dün First Nation is a leader in the community's poverty reduction efforts, and are key partners with the municipality and community on the Vulnerable People At-Risk Initiative. As it was heard by the community, we need to engage youth as a critical part of this work. Therefore, at the end of the month the Champagne Aishihik First Nation will host a youth forum in which issues of leadership concerns, needs, and supports for youth will be discussed. The main point of this forum is to get to action, and we are likely to see other First Nations in the community building on that success, offering this platform in their own territories.

Another example of youth getting involved with YAPC is through their participation with the high schools' social justice clubs. The high school social justice clubs – as well as post-secondary students and youth in general in the community - are regularly called upon by the YAPC Secretary. We've been able to tap into his former working relationship with the schools, and well-established rapport with the students to mobilize them. There is always an excellent response to the call, whether it be to raise money, help with the Whitehorse Connects events, conduct the point-in-time count, or other activities. In particular, our three annual Whitehorse Connects days wouldn't be possible without them.

In the Yukon community, open communication is an essential and relatively natural part of working with youth on these activities, where they are able to feed back their suggestions on our events and activities. Every single suggestion that has been made by the involved youth has been adopted. While we would like to make the space to bring them to the planning tables and monthly meetings, maintaining the open dialogue means that the voices of youth are already present and are influencing our group's actions, awareness, and advocacy.

Q. Are there barriers to participation that you find amongst the youth in your community, and how have you addressed them?

A. Past history and inner barriers are the major challenges our youth face in participating in this poverty reduction work, to the point that their barriers are more a matter of 'are you still standing, or are you bent over with the weight of your own burdens?' There are parallel things the youth in our community are dealing with, and engaging them means recognizing their inner struggles on different levels.

Courage, determination, and support are the three primary assets that can help them overcome these obstacles. There are a few opportunities offering support in our community, including healing camps (ex. Jackson Lake) and the youth forum that Kwanlin Dün First Nation is hosting.

Q. Does the age diversity participation extend to seniors or other less-usual community members?

A. Senior participation in YAPC is very extensive. They are present at the table regardless of the issue and have a strong voice. They are particularly articulate and expressive in their emotions around the legitimacy of their concerns on poverty and housing, and there have been many successes – particularly in decent accommodations for seniors. Because such a significant portion of the population is aging, seniors are seen as a high priority; there has been a lot of focus on issues that affect seniors, and their involvement is felt by many community organizations.

Q. If another collaborative poverty reduction group was looking to get youth more involved in the planning, mobilizing, and/or implementation of their poverty reduction strategy, would you have any lessons you could share that may help in their success?

A. There are ways that youth engage [with us] that aren't necessarily the same as the average person would - especially through the use of technology and social media.

We are now trying to develop better networks using new technology to be more efficient and more direct, as opposed to doing traditional face-to-face engagement. The challenge is developing our approach and the technologies while maintaining the Coalition's relationships. Because of our small population, our engagement has always been done face-to-face. We need to figure out how to do it right so we don't lose that closeness, and we look forward to our youth showing leadership in using social media.


Closing remarks by Bill Thomas:

There's a lot of reason for optimism and hope in the community, and I am honoured to work with the Coalition and its members.


Further Your Learning: