This resource is also available in French. Click here to access the French version.
This blog post is part of a series written by participants in the Tamarack Institute's 2022 Community Climate Transitions Cohort, a 10-month learning journey in which multisector teams from 19 communities across Canada explored a collective impact approach to climate transition. See the full list of posts here.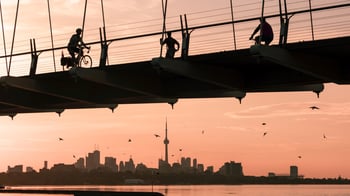 Toronto hosts a diverse and dedicated network of community groups that are at the forefront of climate action engagement work. Many of these organizations have been involved in co-developing aspects of the City's climate action strategy – TransformTO and now continue to engage residents across the city in climate action. In 2021, the City of Toronto adopted a new ambitious Net Zero strategy with the goal of reducing city-wide emissions to net zero by the year 2040.

As a part of the Tamarack Climate Transitions program, a few local community organizations, with the City of Toronto, were able to come together to strategize a collective impact approach for climate action engagement in our city. We identified a few gaps between where we want to go and where we currently are, as well as a few key tasks –including community climate action network mapping, dedicated community resources and a shared vision, that could benefit the whole network of local organizations.
Led by the Centre for Social Innovation, Toronto Climate Action Network and Canadian Climate Challenge, we are now moving into a next phase of this process with the goal of creating a long-term climate action engagement vision for our community over the next few years. Over the next year, we hope to map the existing network of climate action organizations in Toronto, pilot a collective climate action project in one of the local communities and identify shared key goals for the overall trajectory of community-led climate action work. As a part of this work, we hope to foster deeper relationships and connections with communities that are often underrepresented in climate action work in our city, to ensure a more collective approach to social justice, climate justice, climate resilience and mitigation.