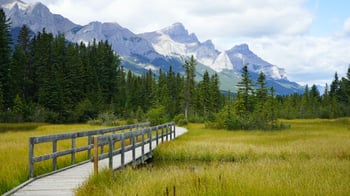 Connectivity. Systems Thinking. Education. Advocacy. Encouragement.
These were the core themes that emerged from a community meeting in Canmore October 11, 2022, to accelerate climate action in the Bow Valley using a social equity lens. Over 80 participants representing students, industry, non-profits, tourism, and municipalities attended. The goals of the meeting were for attendees to share ideas, learn from experts, and commit to doing more to prevent and adapt to climate change, while integrating equity and social justice into proposed solutions.
In partnership with the Town of Canmore, the climate cohort is led by a local charity, Biosphere Institute of the Bow Valley, for whom the concept of network-building is not new. For instance, the Biosphere Institute formed the Canadian Rockies Youth Network in 2021 to connect high-school aged youth to environment-based initiatives. They also host the WildSmart program, which trains a network of Wildlife Ambassadors to engage with trail users in the Bow Valley and Kananaskis Country.
What makes the climate cohort different is the integration of collective action concepts and principles, such as multi-solving, which is a framework that favours actions that address multiple challenges (for example: affordability, climate adaptation, and equity). The cohort's work is inspired by the research and guidance of the Tamarack Institute's Climate Transition Cohort. Using learning from the Tamarack cohort, a 14-person Advisory Committee was formed in summer 2022 who collaboratively planned the October 11 gathering to kick-start collective action on climate in the Bow Valley.
The Bow Valley is both uniquely impacted by climate change and uniquely poised to advance climate action. Glacier melt in the Rockies threaten sustained water supply for millions of people downstream; wildfire smoke and extreme weather negatively impact residents and the over 6 million tourists that travel through the Bow Valley each year (which includes Banff National Park). Major industries such as cement production and mining also contribute a disproportionately high amount of emissions per capita.
But, these high levels of visitation and industry emissions also mean there are significant opportunities for carbon reduction. The municipalities of Canmore and Banff already have strong climate and environment plans, but with only about 5% of municipal emissions directly controlled by local governments, collaboration and innovation among the rest of the community is necessary to grow capacity to take climate action.
The Biosphere Institute's mission to empower community leadership to address environmental challenges positions the organization to act as the backbone organization to support the collective actions of the climate cohort. The climate cohort's vision for Accelerating Climate Action is to align existing climate action efforts, strengthen and adapt regional initiatives, define common goals among diverse stakeholders, and ultimately reduce community emissions - while also addressing key affordability and equity issues.
For more, check out: https://www.biosphereinstitute.org/accelerating-climate-action