I was reading a 2015 article called Deepening Community, Realizing the Potential of Citizen Leadership by Sylvia Cheuy, Director of Engagement at Tamarack. The article talks about community wellbeing and collaboration - how change requires organizations, groups, governments and citizens to work together. No one sector working alone can effectively address complex community issues. Building neighbourhoods is about strengthening relationships, trust and sharing their unique skills, knowledge and perspectives to work towards shared action.
The article got me thinking about a conversation I had last week with Angie, a Community Developer from St. Albert, who is working on their neighbourhood development portfolio. While talking about partnerships and the need to be creative in order to bring the "unusual" partners to the table, Angie said that City Council had supported them to bring 11 local residents to a Deepening Community conference in Edmonton in 2016. She stated
"It was a game changer for our Neighbourhood Development in St. Albert! Having the opportunity to hear amazing speakers and see that neighbourhoods across Canada were engaged in similar work, was a huge eye-opener. It affirmed that we are on the right track in our neighbourhood building efforts and created a sense of pride when realizing that others were interested in learning about our work! Everyone left feeling inspired and excited to do more."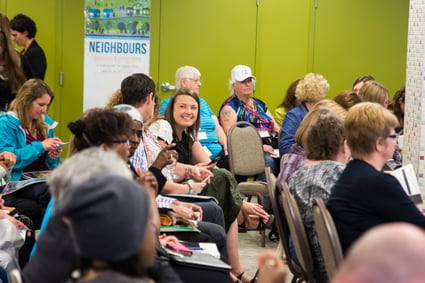 I encourage you to also think about who your "unusual" partners are, and to bring them to this year's Deepening Community event, entitled Asset-Based Community Development for Healthy Neighbourhoods. We are excited to be joined by several world-renowned keynote speakers who have been immersed in the work of ABCD for decades, including Cormac Russell and John McKnight, who will showcase their work and share their highlights and critical lessons with us. This upcoming workshop will also be an opportunity to learn from your peers both in-session and in-action. Particularly, if you choose to attend afternoon learning excursions, you'll hop on a bus with us and visit locations that have used ABCD theory and practice to build healthier neighbourhoods in Kitchener. Then, in the evening, we're screening a movie release about building communities and hosting a community celebration with delicious food and uplifting music.
I have been to four Deepening Community events and every one of them has inspired me! Gather a group together and come to Kitchener. Who knows, it could be a game changer for your community too.
Take Your Learning Further