In 2018, Living SJ collectively raised an additional $10 million over five years for the Saint John community to reduce poverty when they became the stewards of New Brunswick's Social Innovation Fund. The purpose of the grant is to demonstrate innovative community-based practices that could successfully lift Saint John residents out of poverty and be scaled to other jurisdictions throughout the province.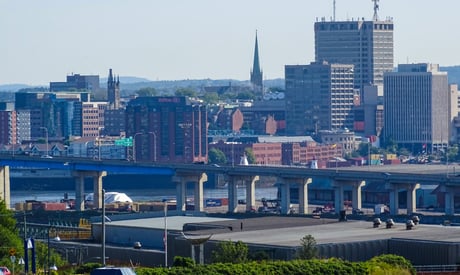 Despite significant setbacks due to COVID-19, Living SJ's 2020 Annual Report shows that they and their partners have still made important progress over the last year.

Innovative projects include:
Health
Adverse Childhood Experiences (ACEs)

– Using the Self-Healing Community model, they exceeded their targets by training 338 individuals and 29 Master Trainers to help organizations embed the science of ACEs into their policies and practices.

This is a tenet for creating a supportive community for individuals that have experienced childhood trauma.
Housing
Landbank – Living SJ raised funds to obtain the titles to vacant and derelict properties in an effort to repurpose them as diverse mixed housing, green spaces and development projects. They are also working with municipal and provincial governments to reduce the number of times buildings are vacant before going to sale.
Education and Skills
When Children Succeed – Living SJ also raised funds to hire additional teachers for schools in low-income neighbourhoods, bringing the ratio of teachers to students down from 1:21 to 1:12.

Results from Year 1 indicated:
literacy and numeracy of kindergarteners matched the district average within one year;
chronic absenteeism of students was reduced 21.7% to 14.9%;
ninety-seven percent of parents reported their child felt welcome at school; and
teachers reported an increase in children's confidence and readiness to learn, as well as a decrease in behavioural incidents.
Education Success Advisor – Eighteen students were encouraged to engage with the trades or culinary arts, organized by the education success advisor (ESA) in Harborview High School. The ESA works individually with approximately 30 students who are at risk of dropping out to help them overcome barriers and thrive in school and life.


Speech-Language Pathologist – The speech-language pathologist, hired to improve oral language development amongst low-income children, collaborated with literacy and numeracy leads to create a home-based learning package for children during the pandemic, which included calendars of daily activities. In fall 2020 they launched an oral assessment of approximately 700 students. This will provide data for teachers of each child to help create student plans.


Bridge to a Brighter Future – Seventeen people completed an incentivized goal-setting program that provides long-term coaching for participants to reach their own goals under five domains, including economic self-sufficiency and family stability.

Participants were able to do the following:
Grow their networks
Improve their physical and mental health
Report less precarious housing
Complete education or training programs
Gain employment or took critical steps towards employment
Income and Employment
Working 4 Change – This project transitioned 60+ individuals towards employment, demonstrating the value of an outreach, connection and learning model that prepares people and builds skills for work. Participants formed relationships and a connection with their community, and business partners helped to expand the horizons of participants.


Transition to Work – The Saint John Learning Exchange developed a culture of coaching and goal-setting amongst 236 participants in 2020, showing that financial incentives for setting and achieving goals led to positive behavioural change.

In 2020, they used a variety of workshops, distance learning packages and tools to deliver a soft skills curriculum.
In what ways are you and your partners working smarter instead of harder to reduce poverty?
Share your socially innovative ideas or current initiatives in the comments below.
Learn More