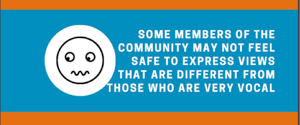 Something we don't discuss much is the importance of the 'do no harm' principle when engaging the community (especially relevant now with the COVID-19 pandemic). Anthony Boxshall and I identified 'people feeling unsafe' as one of the key challenges to co-design. We rely on bringing together a diverse community of interest, but what do you do if alternative views are not welcome, or indeed people fear the consequences of participating and expressing unpopular or inconvenient points of view? This can be even more challenging than just ensuring physical distancing at this time
People do feel unsafe to participate – for a variety of reasons.
Before considering potential tactics to address this, it's important to understand that fear can be well-founded.
While working in Northern Queensland with agriculture extension service providers, I heard of a farmer who decided to get more serious about sustainable agriculture practices, only to be shunned by other farmers in the district. She became known as the 'witch on the hill', and many would no longer talk to her. They believed she left their tribe; a very sceptical tribe when it came to acknowledging climate change impacts, or damage to the Great Barrier Reef their farming practices may have been contributing toward.
On another project, about 7 years ago, which involved exploring options to secure power supply to an inland region, two shop owners decided to support a particular option that others were concerned about. The result was that their township turned on them, to the extent that people would not shop there, and young people were warned not to apply for work there. Ultimately it put them out of business.
On another occasion, I managed to talk a council officer out of his plan to overwhelm opponents of his 'pet project'. He wanted the council to construct an off-road cycle path from a seaside town to a village in the hills. The only difficulty was that the path would go through several farms, and the farmers had never been spoken to about it. The council officer wanted me to facilitate a large town-hall meeting, because there were several hundred cyclists who would attend, and they would 'drown out the voices of those farmers'. We ran quite a different process, of course, but this could easily have led to divisive, unpleasant consequences.
There have been other projects where people have been physically threatened. On one occasion, at a public meeting, I attended as an interested citizen (not as the facilitator, for a change), there was a punch-up between two young men who had opposing views. Although not much damage was done physically it had the effect of dissuading community members to continue being involved. It felt scary and polarising.
During a Core Values Renewal process for the International Association for Public Participation, for which I was the process team chairperson in 2008, Australian members proposed an additional core value, one that said something like this:

"Public Participation aims to leave a legacy of a stronger and more cohesive community of interest as a result of the process."

I was surprised when we failed to gain the support of the majority of members attending the session, held in Montreal. Members from the USA in particular felt it was going too far (code for, it sounded a bit pink – or socialist!?!?!). I left scratching my head, thinking, 'surely it is not ok to engage communities and leave them more polarised, feeling less safe, and less confident to be able to shape the world they lived in.'
Of course, many thought such a Core Value had merit, and it is something I know that many community engagement practitioners pay attention to. There are quite a few practical measures to improve safety, though we can probably never guarantee it will always feel safe to be involved. Being involved will change things, and choosing not to participate will also come at a cost, let us not forget that.
So what can we do to help participants feel safer?
Here are nine tips I have learned along the way.
Meeting with individuals

and small groups on their turf is a good way to start. Learning what they care about and how comfortable they feel mixing with people with different views. This is still possible in a COVID world by arranging a call or video call at people's places at a time that suits them.


It's worth doing some

research

to consider what has occurred before. Not just reading about it, but also talking to people who have worked with the community previously.


'Dialogue for understanding', something a colleague Paul Waite specialises in, can be really worthwhile. You can read about this approach

here. It's a process that does not aim to reach agreement, or to see who can win a debate. Dialogue provides a safe space for people to share their view of the world, and to listen to others. Listening for understanding can help prepare people to participate in a co-design process; they may even find they have more in common than they first thought.


Involving

randomly selected participants

in a process to work through a controversial issue, can moderate the behaviour of those with more extreme views. It is not uncommon for participants to call out the aggressive behaviour of others if deemed inappropriate.


As a facilitator I have found it much more useful to

encourage

the

participation

of more people than to try to 'manage' or 'control' those who are trying to monopolise a conversation and behaving aggressively. Focusing attention on how to elevate the participation of all seems to be a more effective way of not giving too much power to the most aggressive participants.


There are methods that make it safer for people to express their views;

digital polling methods, using applications like Poll Everywhere, Menti and Slido, record and display collective results while ensuring individual anonymity. Jason Diceman's

Feedback Frames

is another method for making it safe to express feedback on different ideas.


Using

video

so people can share their views (their faces can be hidden and voices altered) is another way for people to share views and stories, in a way that doesn't require them to be in the same physical space with others who disagree.


We are not more accustomed to using Zoom and other

online meeting tools, which can also help people to feel safer. This can also be used in conjunction with digital polling tools, and other programs. It is one of the benefits derived from COVID-19 restrictions.


Finally

co-designing the process

with a range of people will help to factor in safety measures. There is no 'one-size fits all' process when it comes to community engagement. Working it out together helps to prepare the space where people can deliberate safely, and work toward enduring solutions.
Now it's your turn. What are your reflections on safety issues related to community engagement, especially co-design processes?
Learn More
If you are interested in joining our Authentic Co-design Community of Interest, then sign up here.


If you want to hear about how Anthony Boxshall, Susan Carter, and I have responded to a range of other challenges you may like to tackle our self-paced online training course, Authentic Codesign. More information about that here.


Save the date for Tamarack Institute's Co-Design Virtual workshop