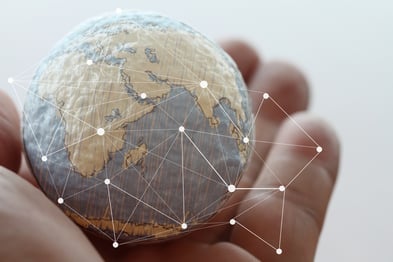 This weekend I was asked to speak at Maple Grove United Church in Oakville, Ontario about some of my reflections working in the social change sector over the past few years. This offered me a great opportunity to think deeply about my journey so far and opened up some amazing conversations with Oakville residents about taking on complex challenges in our community. I've shared my speech with you below, and would love to continue the conversation online!
What have been some of the reflections, challenges, or insights that you've taken in on your path to creating change in your own community work? What advice do you have for others? Do you have examples of tackling complex problems in your neighbourhoods? Comment below!
Address to Maple Grove United Church on August 20, 2017
I was asked to speak to you today about the organization that I work for and the role we try to play in the social change sector across Canada. The organization is called the Tamarack Institute, and we work with leaders in non-profits, governments, businesses and the community to make the work of advancing positive community change easier and more effective. We do this in a number of ways.
We have an online learning community where over 23,000 people from across Canada and internationally are able to access learning opportunities to help them in their community change work. This learning can be found in the form of papers and resources sharing the latest thinking from across the field; communities of practice where people working on similar issues meet monthly to discuss challenges and learn from one another's experiences; free webinars hosting conversations with thought leaders in the field sharing new ideas and practical case studies; and, blogs written by people far and wide reflecting on what they are working on in their communities. It is Tamarack's belief that by connecting people and leveraging one another's learning, we can get to impact on the issues we are facing faster and more effectively.


We also host a number of conferences, or 'learning events' across the country that dive deep into some of the key ideas that we believe are vital to tackling complex community problems. Community engagement, collective impact – a term that refers to multi-sector initiatives that are tackling long-term system-level change in their communities, poverty reduction, neighbourhood strategies, and evaluating community outcomes, are a few examples of learning events we might run. These events bring together people from all different backgrounds – municipal workers, health care professionals, not-for-profits, philanthropists (to name a few) – to learn from one another and take home new ideas and learnings to the organizations or round tables that they represent.


Lastly, we work one on one with many groups, both in Canada and the US, to help advance their specific community agendas. This could be anything from a first nations community embarking on a 5-year collective impact project to move the needle on poverty in their region; to a municipality looking to improve the way they are engaging with their communities on the issues that affect them most.
In all of our work, our role is to share knowledge, build the capacity of the field and co-create solutions together so that we can start to see true impact on some of the country's most pressing problems.
So, what got me interested in this work?
Well that goes back to many years ago when our local Rotary Club, Oakville Trafalgar, gave me the opportunity to continue my studies and travel to the University of Edinburgh to do a one year Master's program on international development with a focus on Africa. This was a huge turning point in my life. When I left for Edinburgh, having lived in South Africa for a semester during my undergrad and also volunteering in Uganda, I wanted to understand how to create change. I wanted to find the answers to the problems I saw people faced with. If only I could read the right article, take the right class, uncover the perfect organization – I'd understand how to change the world for the better, and I could be a part of it. Well that's not what I found. What I found was a deeper understanding of the history and vibrant cultures of many of the countries who we hear about in the headlines as being needy, ill-informed and corrupt. I found countless initiatives where people were going into other people's communities attempting to put them on the right path or offering their 'expertise', but causing more harm than good in the long run, I found world powers battling over territory all-while fueling and feeding civil wars and unworthy leaders in countries other than their own.
I found complexity, and there was no easy answer.

It seemed everywhere I turned, every book I read, every research project exposed, it was virtually impossible to tackle the pressing issues I hoped to better understand because there were always so many competing and uncontrollable factors that made the 'true' or 'right' way forward blurry and often misinformed and misguided.
I came home feeling wiser but all the more confused. Was there really no hope? As a privileged white girl from Canada, did I even have a place in a conversation about empowering communities in which I couldn't even speak the language?
That's where Brenda came in. Many of you in this congregation would have known Brenda Zimmerman – a brilliant, caring leader who if you only knew from coming to church you would think was a saint, without really even knowing that she was a true leader in the field when it came to facing complex challenges. In my industry, she is looked at as a guru, a visionary, and is referred to and referenced constantly.
I met with Brenda when I got home to tell her about the way I was feeling in hopes that she would set me in the right direction. After a few sips of coffee, I all of a sudden felt a wave of comfort come over me, that it wasn't just me – people all across our country were feeling the same way. People, who had been working in the field for years, were tired of not seeing the results they were hoping for. It was becoming obvious that it was not more dollars, or more effort that was needed to create change, but a different way of working and understanding of the tasks we were taking on.
This is where I was introduced to the idea of complexity.
Again, Brenda was known for her amazing ability at simplifying complex concepts, and so it would only be appropriate for me to use her terminology to help teach you today, about the difference between a complex, complicated and simple problem.
Simple Problems
Think of a simple problem, like baking a cake. You have a recipe card, you have your ingredients. If you follow the directions closely, in less than an hour you have yourself a delicious and complete cake.
Complicated Problems
Now think of a complicated problem, like sending a rocket to the moon. This is not like following a simple recipe. This takes years of planning, coordination of many experts, problem solving, long term planning – but there is a path to do it. It's not an easy path, but if you take the right steps, get the right experts involved, you can launch a rocket to the moon.
Complex Problems
Now who in this room has ever raised a child? If you haven't raised a child, have you ever been involved in a romantic relationship? If you have, then you will understand what I mean by complex problems. Complex problems are unknowable. They are dynamic, ever-changing and are constantly being influenced by internal and external factors that are difficult to predict. There is no roadmap to raising a child. And even if your first child turns out just as you hoped, you might use the same, exact methods again, but get a completely different result.
Complex problems are the issues people get stuck on, and that's because there is no recipe card or team of experts that are going to solve them. They are all around us, and we are all apart of them. They may be easy to name – poverty, racism, obesity, education, mental health – but what contributes to them and what will change them are never unmoving. If we are to face complex problems, we must first understand the basic concept that – a. we do not know the answers and b. we are both a part of the problem as much as we are part of the solution.
And that's what led me to Tamarack. Tamarack is interested in complex problems. We're interested in people who are breaking down sectoral barriers to discuss the different touchpoints in a community that influence a certain issue. We're interested in mapping communities to reveal the systems that are in place and how we can better leverage or improve how they're operating. We're interested in hosting community conversations and listening to and empowering people who have lived experience of the issue being addressed to help shape the future for themselves.
Complex problems can't be solved by writing a cheque, or building a school. If it were that easy, they would all be solved by now. Complex problems involve all of us and the only way to face them is by acknowledging the role that we each play in our communities, and opening our hearts and minds to the perspectives, assets and contributions of others.
As I went to write this, I learned about the initiatives the United Church of Canada is taking in engaging communities across the country in the role the church might play as the future unfolds. For those of you who might be involved in these types of discussions in the future, let me offer you a few words of advice from some of the learning I've taken away during my short time at Tamarack.
Appreciate complexity in all of its forms – avoid the easy road of matching simple solutions to complex issues
When engaging around an issue – take time and care in getting the right people to the table. It does not help to hear from the usual suspects. If we are to move forward, diverse voices need to be represented in a meaningful way, especially those who are most directly affected by the issue at hand.
Engage authentically, not for the sake of engaging. Avoid bringing people together or asking people for their time and effort without truly reflecting on why you're doing so, how you're going to use what you hear, and how you plan to feed back that information to the group you've engaged.
Do not place yourself outside of the problem. When it comes to complexity, we all play a role in the systems and cultures we are a part of. Remember that your experience of an issue will be different from another's. Listen first and recognize that there may not be one way forward, leave room for multiple pathways and opportunities.
Don't plan the work and work the plan. It's great to have a clear and common understanding of what you want to see in the future, but be open to it changing and adapting along the way.
Always show respect and empathy to everyone around you. If we are to make significant change, it can't come at the cost of winners and losers.
This work is not easy, I warn you. But what in life worth living for ever really is?