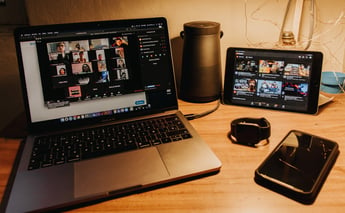 In June 2020, Tamarack pivoted from our in-person workshop offerings to moving workshops into the virtual space. We knew it was going to be a challenge. As our team reflected on this opportunity, we noted that we wanted to create a virtual learning experience which was unique.
Tamarack in-person workshops have been the place where participants meet colleagues doing similar work. The work of community changemakers is challenging and sometimes feels lonely. Participants often expressed that the connections they made at workshops was pivotal to them.
We wondered if this experience of connection could be replicated virtually. In June 2020, Tamarack launched our online Foundations of Community Engagement (learn at your own pace) course and an virtual 3.5-hour workshop on Turf Trust and Virtual Collaboration.
As prototypes, these workshops and the others launched since, have exceeded our expectations. The small group size for the short virtual workshops enables participants to connect with each other. Small group conversations are threaded throughout the 3.5-hour workshop creating points of connection and deeper learning. Interactive tools such as Mural and polls are woven into the content.
Finally, small group coaching sessions are held one-month post workshop or during the Foundations course to answer questions, dive deeper into the workshop content or learn how participants are applying the content in their work. The coaching sessions are a way for Tamarack to hear directly from learners. One learner commented during a coaching session that the combination of practical content and coaching made Tamarack workshops unique.
Sherreta Harrison, Sustainability Catalyst at MetroMorphosis describes her teams experience participating in one of Tamarack's virtual workshops on Collective Impact 3.0.
Our team thoroughly benefited from the time we spent with your team and feel better equipped to lead our change work. The tools shared, the presentation, and the ability to have conversation with so many diverse perspectives all have real import for the work we are doing in re-entry, education, economic inclusiveness and community change.
After six months of delivering workshops in the virtual space here are ten lessons learned.
A virtual workshop is a global experience – participants have accessed the workshops from around the globe adding a richness and diversity to the learning space.


A smaller number of participants in a workshop or post-workshop coaching creates a more engaged and connected learning experience.


A technology support team is essential to help those less accustomed to navigating different platforms such as small group conversations, chat box engagement, Mural, polls, etc.


A pre-workshop orientation to the technology tools can be helpful when introducing participants to unfamiliar technology. We include information and a short Mural exercise for those interested in accessing this tool before the workshop.


The small group conversations are enhanced when facilitators are recruited in advance. We provide an orientation and training session for small group facilitators, so they are comfortable with their role.


The workshop should have applied and practical activities and create spaces for participants to share their knowledge and resources.


The workshop should provide multiple connection opportunities including small groups, chat box, polls and conversations.


A participant workbook which includes an exercise to be done before the workshop and other resources is a great tool to keep participants engaged.


A post-workshop coaching session is a practical way for participants to reflect on what they have learned and share their personal experiences about what works and does not work.


The workshop provides an opportunity to keep connected with learners. We follow up multiple times providing additional resources to deepen the experience and content.
To Learn More: