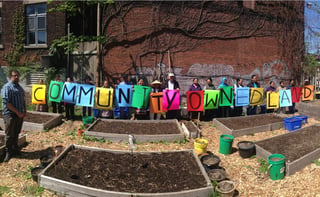 On Oct 27, Deepening Community and Vibrant Communties Canada co-hosted our first session of the webinar cross-over series: Neighbourhood-Based Strategies that Reduce Poverty. This session featured The Parkdale People's Economy Project with special guests: Victor Willis and Nancy Henderson.
In this webinar Victor and Nancy shared an overview of lessons and challenges that relate to how diverse organizations have worked collectively to move beyond organizational boundaries and build more equitable local economies. Using the Parkdale neighbourhood in Toronto as a rich example, Victor and Nancy were able to speak to some of the specific issues that a neighbourhood-based strategy can tackle in an effort to reduce poverty.
I learned about the Parkdale Planning Study Report, and was inspired by the great overview of several other insightful models, resources and links throughout the presentation that address how working at the neighbourhood level helpful. If a busy question period at the end of a presentation is any indicator of a thoroughly engaged audience- this one certainly hit the mark! I was especially happy to hear Victor mention the work of John McKnight and Asset-Based Community Development. You can visit the resource library on ABCD Canada that was launched at our Deepening Community Gathering this past June.
The recording of their conversation is now available online and the slides from the presentation are available here. Please share this webinar with your networks, colleagues and friends!
We hope you will register to join us for the next part in the webinar series, featuring the work of the 1,000 Families Project