As part of Communities Building Youth Future's commitment to  youth engagement, we aim to build meaningful opportunities to engage young people - we believe that we can learn a lot from youth. We believe that youth perspectives, beliefs, and visions for the future should shape our work and we want to share these with changemakers across the country. The following blog showcases the voice of youth with lived/living experience.
I am a young person who has successfully worked on multiple evaluation projects with youth, and yet I often heard from colleagues about how challenging that collaboration can be. In some ways, I can see why people find it hard to engage youth in evaluations. So, for this post, I reflected on some questions that have stuck with me to illustrate why considering youth engagement as a professional development opportunity for youth can help make engagement more meaningful.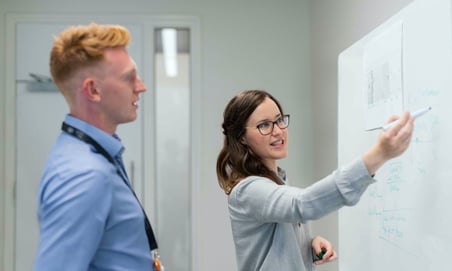 Why don't youth seem interested in program evaluation?
In my experience as an evaluator, I have found that youth are interested. Program evaluation is a specialized field, and not every part of it will be interesting to all youth, but there are a lot of possible ways to make evaluations engaging. For example, I worked with a young person who found learning about logic models really interesting, so we ensured that she got the chance to focus on that. I believe that the idea that youth aren't interested in evaluation can sometimes be an excuse. I recommend taking the time to get to know what skills your collaborators bring to the project and what the program or initiative means to them to help make the process more accessible and valuable.
What benefits do youth receive when they participate in a program evaluation?
There are lots of practical skills that I would have loved to develop earlier that being part of an evaluation process might have exposed me to. But even if I had had those skills, I wouldn't have known what jobs to look for, and I think this is pretty common. Collaborating with youth has the added benefit of giving youth an opportunity to try out new skills and learn about career paths they may never have considered.
I didn't learn about program evaluation until I was ready to enter the workforce. Having opportunities to collaborate with professionals would definitely have helped me in my career and made program evaluation more accessible. I often felt that while I was learning, I didn't have much to contribute. Hearing from colleagues that my input and ideas were valuable really made a difference and got me excited about what I could bring to the work.
As an evaluator, I remind myself that not everyone is as excited about evaluation as I am, but taking a collaborative approach has so many benefits. It ensures that programs and projects that are targeted for youth actually align with the goals of youth, but it can also support building new skills, identifying new career paths and role models, and ultimately supporting the next generation of evaluators as well.
Learn more about engaging youth in evaluation in new webinar on October 28