What a year it has been! Year two of a global pandemic and some new norms for work and collaboration didn't stop Vibrant Communities Calgary (VCC) from having a record year in advancing the Enough for All strategy.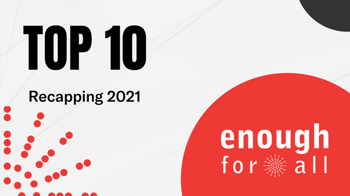 We've compiled the Top 10 highlights of the past year for our last newsletter of 2021.
This blog post originally appeared on the Vibrant Communities Calgary website.
1. Profiling Poverty
This year we created a resource where municipal election voters could find important poverty-related information like how many people accessed food resources, live in affordable housing, and applied for the low-income bus pass in each of Calgary's 14 wards. The Calgary Poverty Profiles are now the most visited pages on our website!


2. Launching a Podcast
In the fall we launched the Let's Talk Poverty podcast. Since then, we've had six episodes with expert insights, the voices of lived experience, and amazing guests.


3. Highlighting Issues with Emergency Food Assistance
The onset of the pandemic resulted in more demand for emergency food assistance, which revealed gaps in this system. In response, a variety of agencies began providing food assistance where they had not before. We worked with the Canadian Poverty Institute to understand the issues and the opportunities and published Examining Calgary's Emergency Food Assistance System.


4. 2021 Living Wage
After months of collaboration with municipalities across the province, VCC released a new living wage for Calgary, $18.60 per hour. We also provided support to the Alberta Living Wage Network to launch and kick off an employer certification program for Alberta living wage employers.


5. Helping People File Taxes
VCC, along with the City of Calgary, the United Way of Calgary and Area and Momentum, kicked off its first campaign to reduce barriers to filing taxes. It highlighted resources like free tax-filing clinics to help people living on low incomes file and get some income boosting benefits.


6. Advancing Anti-Racism
2021 saw heightened awareness about racism and we continue to see how racism is a root cause of poverty. VCC continued our how to be an ally work and community facilitation and engagement specialist, Hagir Sail, did a blog on how to be actively anti-racist.


7. Reflecting on Residential Schools and Intergenerational Trauma
Indigenous Advisory Committee member Tim Fox shared heartfelt remarks at our AGM that touched on the recent discovery of Indigenous children buried outside residential schools and the intergenerational trauma experienced by many in local Indigenous communities.


8. Understanding the Lived Experiences of COVID
We heard some unsettling and upsetting stories of how the pandemic disproportionately affected people living on low incomes in Understanding the Impact of COVID-19: Addressing Structural Barriers that are Widening Inequities and Exacerbating Vulnerability. This landmark study from the University of Calgary under the guidance of the Enough for All evaluation advisory committee has been widely cited and received considerable media attention.


9. Interview with Dr. Evelyn Forget
In the summer, VCC's policy and research specialist Lee Stevens got to chat about basic income with Dr. Evelyn Forget, Professor of Economics and Community Health Sciences at the University of Manitoba. This thought-provoking discussion was part of TEDxYYC.


10. Marking the International Day for the Eradication of Poverty
Poverty Talks! hosted an in-depth conversation led by people with lived experience of poverty on the International Day for the Eradication of Poverty.
Working to ensure those in Calgary that live in poverty are supported and represented is a collective effort which involves many organizations, collaboratives and Champions. Enough for All is Calgary's community-driven poverty reduction strategy. Its mission is to create opportunities to align and leverage the work of hundreds of organizations and thousands of Calgarians to reduce poverty in our city.
Read more: