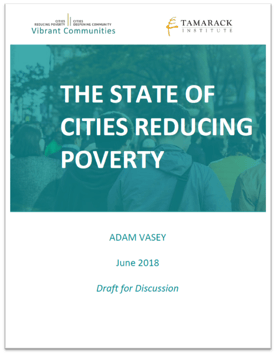 When I joined Tamarack in March, my first major project was to write a State of Cities Reducing Poverty paper. I don't think I fully anticipated how challenging this would be. I thought I had a pretty good understanding of the Vibrant Communities – Cities Reducing Poverty (VC – CRP) network, having been a member for several years while I was director of the Windsor-Essex poverty reduction strategy. Well, it turns out there's quite a big difference between having a general understanding of the network and trying to capture its overall impact on poverty reduction in Canada.
Writing the paper deepened my learning about the rapidly growing VC – CRP network. It also gave me a chance to view the network from a broader perspective, exploring the movements and ideas in the new millennium that VC – CRP has both benefited from and helped shape. When viewed collectively, several movements and ideas – e.g., the rise of provincial and territorial poverty reduction strategies, national advocacy efforts, innovations like Housing First – have contributed to a growing momentum for poverty reduction in Canada.
The bulk of the paper focuses on the VC – CRP network's numerous contributions to poverty reduction in Canada. These include the rise of multi-sector roundtables and the growing leadership of mayors, the business community, and people with lived and living experience of poverty. The paper also explores the network's role in effecting a wide range of policy and systems changes in areas such as transportation, housing and through Living Wage campaigns. This was definitely the hardest section to write. While there are many great examples of cities tackling poverty in innovative ways, it's difficult to encapsulate how this translates into impact on a national scale.
The paper wraps up with a discussion of challenges and opportunities facing VC – CRP. A key challenge is how to support the network, with its members having varying levels of resources and capacities, to document and report impact. Finding a way to meet this challenge is now more important than ever, given the current opportunity to begin aligning strategies across all levels of government.
I presented an overview of the paper at the recent Cities Innovating to Reduce Poverty Summit in Vancouver. I plan to make revisions over the next few months and present the final version at the Summit in Peel Region in September. If you would like to read the draft, shoot me an email (adam@tamarackcommunity.ca) and I'll be happy to send you a copy. I'd love to hear your ideas and feedback.