Each year, the International Day for the Eradication of Poverty falls on the 17th of October. Declared by the United Nations in 1992, this date provides a shared moment each year – across the country and around the world – to:
Commemorate victims of poverty, violence and hunger
Reaffirm that poverty is a violation of human rights
Re-commit to coming together to ensure the right to live free from poverty is respected
Acknowledge the effort and struggle of people living in poverty
Celebrate the willingness of people living in poverty to fight poverty and contribute their expertise to ending it
Promote concrete activities around the eradication of poverty
Organize activities for the observance of October 17th.
Source: United Nations Department of Economic and Social Affairs - Poverty
If your organization, association or poverty collaborative is interested in participating in the International Day for the Eradication for the first time or is looking for new ideas, consider some of these 2018 examples from across the Cities Reducing Poverty network:
Special Events
Hamilton, ON – The Council of Canadians Hamilton Chapter and partners hosted a Forum on Poverty and Inequality in Hamilton. With the municipal election falling just days later, candidates were invited to attend to listen and learn about poverty and inequality in the city.
Calgary, AB – Calgary's Mayor Naheed Nenshi proclaimed October as "End Poverty Month", with the goal of helping Calgarians realize their contribution to poverty reduction. 2018's events included The Art of Enough - an evening photo display by local photographers and spoken word performances by members of Poverty Talks, on what it means to have "enough" emotionally and physically; and elsewhere, a screening of the world's first documentary about social impact bonds.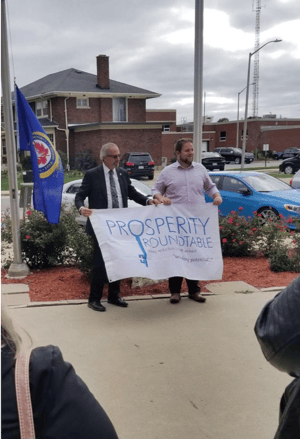 Chatham-Kent, ON – Organized a "Poverty Awareness Week". Activities included: A flag raising with the Mayor to demarcate the start of Poverty Awareness Week; a community conversation on homelessness and substance abuse in Chatham-Kent; a showing of I, Daniel Blake – the story of a 59 year old widowed carpenter fighting the system to receive Employment and Support Allowance; and a community games night co-hosted by the Poverty Roundtable and Lived Experience Advisory Group.
Whitehorse, YK – The Yukon Anti-Poverty Coalition hosted their annual Poverty and Homelessness Action Week, designed to raise awareness and promote action to end poverty and homelessness. 2018's theme was "Lived Experience, What's YOUR Story?". Events include a sock drive and bake sale, a CBC Book Panel on CBC Airplay, and a meet-and-greet between municipal candidates and people with lived experience who shared their stories of poverty, homelessness and food insecurity and heard how candidates would support community members experiencing poverty or homelessness.
Wood Buffalo, AB – Held their annual Homelessness Connect event. 50 service providers shared information on how homeless people can receive essential services that are hard to obtain while on the streets. It gives individuals experiencing homelessness or at risk of becoming homeless a circle of support from the community.
Red Deer, AB – Hosted a poverty simulation with the United Way and Welcoming & Inclusive Communities (WIC) together with 20 volunteers from local agencies, the City, AHS, and Red Deer College. The purpose was to build awareness and understanding, break down stereotypes, and surface ways that people can get involved.
Campaigns
Calgary, AB – Vibrant Communities Calgary and Enough for All launched the inaugural $7 A Day Challenge, inviting Calgarians to spend one day in October living on just $7, and sharing their comments on social media using the hashtag #7DollarsADay. The goal is to change perceptions and stigma around poverty by starting the conversation about what it is like to live in poverty.
Central Alberta – Chew on This! The Central Alberta Poverty Reduction Alliance distributed 300 bags with apples, magnets and postcards to people at The Hub on Ross – a centre for arts and culture – and participants of the poverty simulation. As well as distributing cards to Red Deer Rotary Clubs and the Alberta Rural Development Network Housing Conference.
Whitehorse, YK – Participated in the Chew on This! Campaign and released the Free Food Calendar for Whitehorse.
Written Submissions: Articles, Letters, Blogs
Whitehorse, YK – Articles appeared in the Whitehorse Daily Star, Yukon News and What's Up Yukon to kick off Poverty and Homelessness Action Week.
Halton, ON – The President and CEO of United Way Hamilton & Halton released a call to action statement for community leaders to tackle poverty and to give thanks to communities who are already responding to the challenge.
Calgary, AB – Just before October 1st, Vibrant Communities Calgary staff released a blog detailing Mayor Naheed Nenshi and the City of Calgary's proclamation of October as "End Poverty Month", and highlighted some of the context of poverty in the city and the poverty reduction work being done through Enough for All.
Social Media
Red Deer, AB and Hastings Prince Edward, ON– Roundtable members took photos and tweeted about their Chew On This! Events.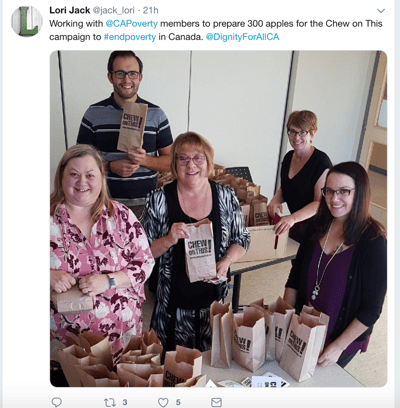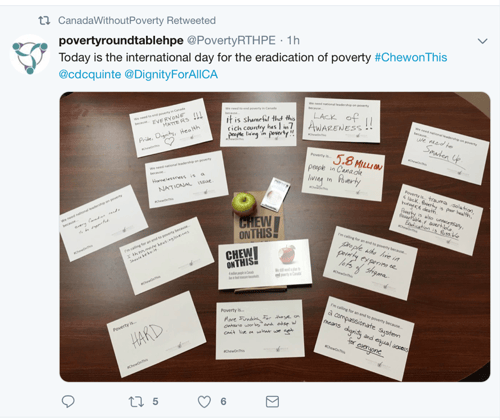 Peel, ON; Calgary, AB; and Ontario MPP Lisa McLeod - Used social media to raise awareness about the state of poverty.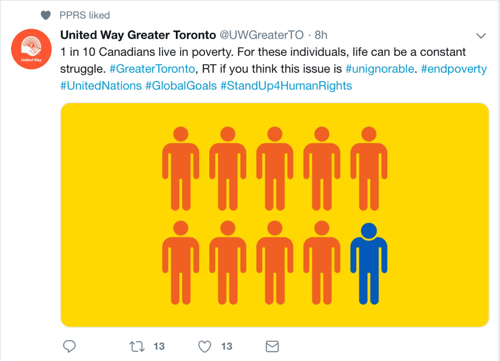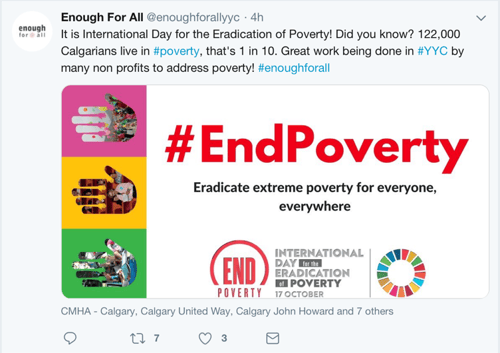 Encourage governments and other key leaders to use the platform to make commitments to poverty reduction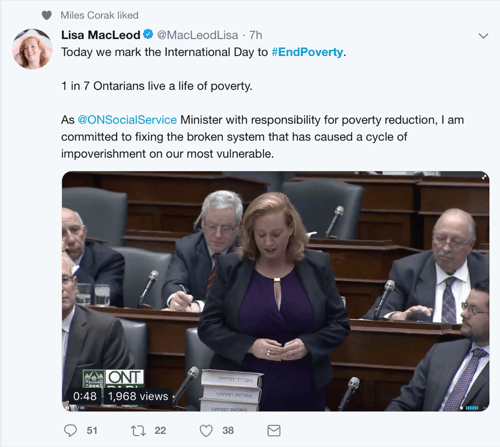 Prime Minister Trudeau - Celebrated success we have already made on poverty reduction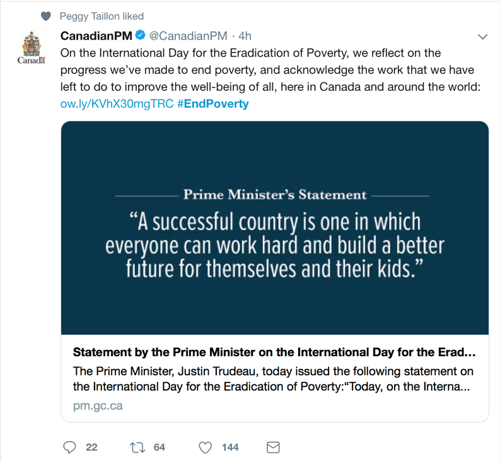 Native Women's Association of Canada – Shared their strategy/approach to ending poverty.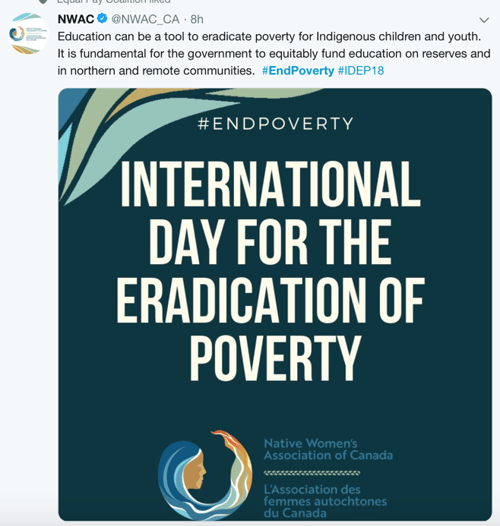 Which direction will you take to support your own community to observe the International Day to Eradicate Poverty this October? Consider:
What key message(s) are most important for you to convey and to whom

How and when audiences want to be engaged

What is feasible with your capacity
Share your plans and ideas for October 17th in the comments section below!
Learn more about the International Day for the Eradication of Poverty.