As part of Communities Building Youth Future's commitment to  youth engagement, we aim to build meaningful opportunities to engage young people - we believe that we can learn a lot from youth. We believe that youth perspectives, beliefs, and visions for the future should shape our work and we want to share these with changemakers across the country. The following blog showcases the voice of youth with lived/living experience.
As a young person living through the COVID-19 pandemic, I am grateful to have my wellness, health, housing, and a plan for the upcoming year. Others are not as fortunate. Unfortunately, while the world has turned to focus on a global pandemic, the street-level issues in our communities are falling through the cracks.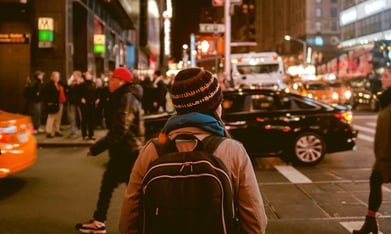 According to recent surveys, as many as 40,000 youths in Canada experience homelessness each year. Many factors contribute to youth homelessness, such as poverty, familial situation, trafficking, or physical/mental health matters. These complex topics are amplified by the severity of the pandemic. For example, in British Columbia (B.C.), COVID-19 has caused an increase in substance-abuse related deaths because individuals don't have access to the in-person safety measures they would in normal times.
Whether it's eviction, joblessness, or lack of financial aid, at-risk youth now face even more grim circumstances than ever before. While we retool our communities, the adverse effects on at-risk youth becomes apparent. The Canadian Medical Association Journal reported that people experiencing homelessness are at higher risk for contracting COVID-19 because their living situation makes it challenging for them to social distance, isolate, and quarantine. Indeed, these factors underscore the importance of housing as a social determinant of health.
What can be done?
Integrating Health Care - At its core, homelessness and its related issues are a public health crisis in its own right. This is why it's so important to integrate our public health care system with supports for at-risk youth. By increasing access to services such as mental health checkups for at-risk youth, we would be mitigating the contributing factors and would further be able to pinpoint where more aid is needed.

Public Policy - It goes without saying that public policy trickles down to us in a very real way. By bolstering support for causes such as affordable housing, access to health care, substance abuse services, and much more, we are guaranteeing a safer and brighter future for these youth. Recently, B.C.'s Ministry for Mental Health and Addictions has set aside funding to double the number of beds for youth at treatment centres, which is sure to be a valuable addition during the COVID-19 pandemic

Supporting NGOs - Many NGOs across Canada provide meaningful services such as housing and education to local communities. Organizations such as Covenant House in Toronto and Dans La Rue in Montreal provide much needed support for youth, especially in this time of need. Covenant House even collaborated with St. Michael's Hospital and Toronto Public Health in July to conduct 75 COVID-19 tests which thankfully all came back negative. Although we are living through a time of global turmoil, we cannot forget about our local communities that are affected each day. At-risk youth desire to be functional people in society too, but the aid is sometimes just out of reach.
To learn more about these issues, please visit www.homelesshub.ca.