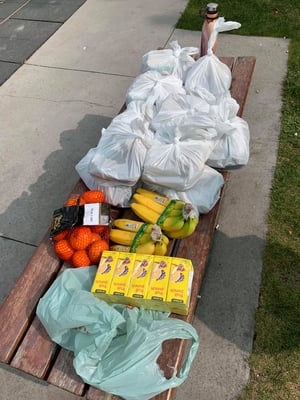 As part of Communities Building Youth Future's commitment to youth engagement, we aim to build meaningful opportunities to engage young people - we believe that we can learn a lot from youth. We believe that youth perspectives, beliefs, and visions for the future should shape our work and we want to share these with changemakers across the country. The following blog showcases the voice of youth with lived/living experience.
We are Step Forward. We are a diverse, multicultural group of motivated postsecondary students from the Calgary Metropolitan Area. We noticed that people experience homelessness and transience were the most vulnerable to the Covid-19 pandemic because access to basic needs services became limited. To address this social concern, we came up with a solution. In a team of 5 people, our vision was to directly deliver packed meals and hygiene products to the transient population around the city of Calgary.
We were given the opportunity to apply for the RAVE community emergency grant that is worth $5,000 from Action Dignity. The entire application process took us 1 month before we received the grant. During that 1 month, we asked our team members if they knew anyone who would be willing to donate items for us to distribute. Surprisingly, our team members had connections to the Dashmesh Culture Centre and Soap for Hope and both community partners played a huge role in helping us initiate the project. The Dashmesh Culture Centre generously offered to make us 100 meals weekly and Soap for Hope donated 80 hygiene kits.
Here are some accomplishments and tips that we want to share with you!
Don't hesitate to reach out to your peers and family members if they have any connections to community resources.

Some of our team members were international students and this was their first volunteer experience in Calgary. We each have our own communication and leadership style. In order to accommodate each other, we realized that establishing a group norm helped the team achieve our action plans and goals. All our meetings were held online. It is important to find a common communication platform for everyone to receive updates from the team.

We travelled by car to deliver the meals and hygiene products to people in downtown Calgary, train stations, and the Drop-in Centre. Since August 2, we have distributed meals and hygiene items to over 900 people.

We were surprised to find out that there are many small, medium and large community grants offered by

Action Dignity

. We suggest reaching out to your own local community association and volunteering organizations for more information.
We couldn't have achieved our vision without the funding and support from Action Dignity. The RAVE grant made a huge difference in alleviating our financial burden. We were able to purchase a variety of necessary items requested by people experiencing homelessness and transience such as masks, toothbrushes, and socks. This experience taught us to become more empathetic, aware, loving and giving to others. As a team, we are proud to see our idea transform people's lives!
Learn More
Follow

Step Forward

's journey as they distribute

free meals and hygiene kits

during Covid-19

to people experiencing homelessness and transiency in Calgary

Learn about

ActionDignity

's

work to enhance the voices of

ethno-cultural communities in Calgary

Learn about homelessness

and how you can respond to homelessness in your community

,

through the

Homeless Hub