This resource is also available in French. Click here to access the French version.
In this blog post, Cayo Costa and Jorge Garza discuss how green spaces can cultivate well-being, equity and resilience.
We are grateful to Roselyn Mesher for her thoughtful contributions on the role that green spaces can play to generate belonging and wellbeing in communities. Do you have any comments? We'd love to hear from you! Reach out to Laura to start the conversation: laura@tamarackcommunity.ca
We need places to promote more inclusive and regenerative ways of living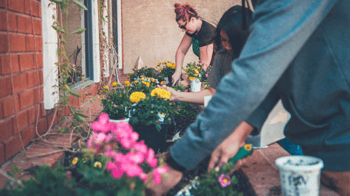 Cities in Canada and around the world are experiencing rapid urbanization, which has profound implications for a municipality's capacity to meet growing needs for housing, healthcare and other essential services. This pressure is particularly critical in small and mid-sized communities with high population growth rates.
The challenges of rapid urbanization represent a unique opportunity for communities to reimagine how they can strengthen belonging and promote more inclusive and regenerative ways of living for current and future generations.
Studies have shown the critical role of places in promoting mental health and strengthening connections, particularly in times of social isolation and vulnerability to climate disasters.
Whether it's in the context of a community garden, a neighbourhood revitalization project as part of a participatory process, or a tactical intervention, places have the potential of igniting transformational change. While policies are also relevant in strengthening community and environmental health, it is in places where communities come together, develop vibrant neighbourhoods and generate belonging.
Green spaces: Cultivating wellbeing, equity and resilience
As cities grow and people have limited access to open spaces, green spaces become an essential type of place that can help promote healthy and inclusive neighbourhoods. Green infrastructure, therefore, should be integrated into municipal development plans to reap the benefits it can offer. There are a variety of green spaces, in scale and function, that can be considered in regeneration plans.
Community gardens, for example, can address food insecurity and social exclusion, and contribute to a sense of belonging. Their programs can foster individual and collective wellbeing – both physical and mental. Local parks and playgrounds can increase biodiversity and offer a space for healthy outdoor activities, social interaction, and child development. Trees also have significant impacts on our cities. They can reduce traffic speed, decrease stormwater run-off and provide shade, which encourages active transportation, among many other benefits.
Activating green spaces for transformational change
Below are some examples of organizations that contribute to activating green spaces as places for transformational change.
Dive deeper: