After just under a year of research and engaging Islanders in a discussion on challenges and solutions to poverty, Prince Edward Island (PEI) released their Poverty Reduction Action Plan in November 2018.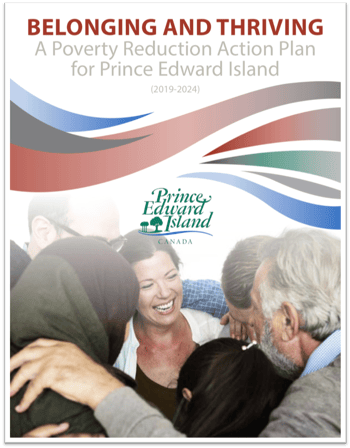 The strategy identifies key action areas in 4 categories:
Islanders needing support to connect with the workforce and community
The most vulnerable Islanders – experiencing deep poverty
The community support system
Children and youth
$68M in provincial funding will support 67 concrete actions and be overseen by a new Poverty Reduction Council throughout the next five years. The deadline for applying to the Council is now closed, but you can learn more about the Council's composition and their overseeing role.
Brief highlights of the P.E.I. Poverty Reduction Action Plan include:
A tangible goal – To reduce poverty by 20% by 2020 and 50% by 2030, based on the Market Basket Measure (MBM – Canada's official poverty line).
Developing a Poverty Reduction Act – To make clear who is responsible for poverty reduction, when planning and reporting will take place, and when the Plan will be reviewed and updated.
Establishing a Poverty Reduction Council – A collaborative leadership team between government and community, providing advice, coordinating with local partners, and reporting on progress.
Large increases to social assistance rates.

10% increase in social assistance food rates.
6% increase in social assistance shelter rates.
A new child social inclusion allowance – for families on social assistance to facilitate children having access to activities.
A new secure income program for Islanders unable to participate in the workforce.
A new 211 confidential helpline to find available services.
There are many existing programs and services in the community that are already doing great work to reduce poverty and support Islanders to thrive. As a whole of community approach was used in the development of the strategy, many of these initiatives now form the building blocks for the plan.
Read about PEI's approach to poverty reduction and their strategic actions: Belonging and Thriving – A Poverty Reduction Plan for Prince Edward Island.