Within the Cities Reducing Poverty network, building public awareness and shifting attitudes about poverty is a critical part of the work. So I was interested in what the Angus Reid Institute's recent study of poverty, which was released in two parts this summer, revealed about Canadians' views on poverty.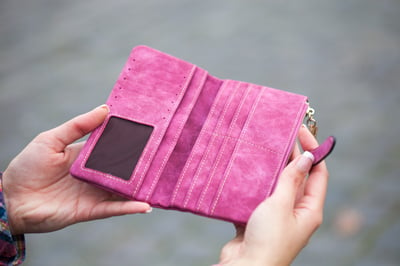 The first part of the study defined and quantified poverty in Canada by asking people whether and how often they have struggled economically. The study created four segments of the population based on the responses:
Struggling (16%): have experienced at least 4 of the 12 hardship scenarios in their lives, and experience at least one on an ongoing basis
On the Edge (11%): have experienced fewer economic hardships than the "Struggling" segment and these hardships are more likely to be recent rather than ongoing
Recently Comfortable (36%): have some past or occasional experience with economic hardship
Always Comfortable (37%): the vast majority have never experienced economic hardship
There is a perception across all four segments that poverty in Canada is on the rise; 52% of Canadians believe poverty is increasing in their communities while only 9% feel it is declining. I found it interesting that Canadians, on average, estimate that about 1 in 3 people (34.8%) in their communities experiences poverty - a much higher rate than the commonly used measures that low-income reveal.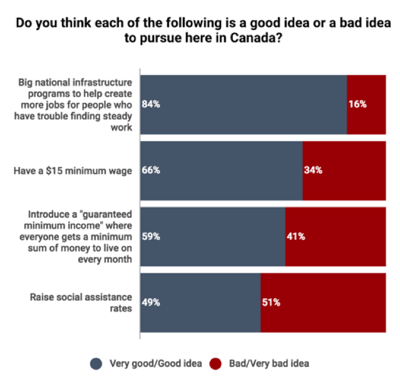 As the second part of the study reveals, nearly two-thirds of Canadians believe their federal and provincial governments should be doing more to address poverty (65% and 64% respectively), but public opinion is divided on what policies would be most effective. A national infrastructure program focused on job creation gained the most support (84%) while increasing social assistance rates was least favourable (49%). Most Canadians also think a $15 minimum wage (66%) and guaranteed minimum income is a good idea (59%).
The study suggests that there is a "broad societal consensus in Canada" that people's socioeconomic status is the result of circumstance rather than individual effort: 72% attribute poverty to circumstances beyond people's control, while 65% believe that people are wealthy because they had more advantages in life, not because they worked harder than others.
In a similar vein, 75% of Canadians disagree with the statement, "People are poor because they are lazy". Still, nearly half of Canadians (47%) agree that "a good work ethic is all you need to escape poverty." The study seems to suggest that poverty is a growing concern among Canadians, but opinions still diverge when it comes to questions of what individuals and governments should do about it.
How might the results of this study change your approach to building awareness and shifting attitudes about poverty?
Learn more: