Dispel the myths. Present the facts. Inform conversations. Stimulate action.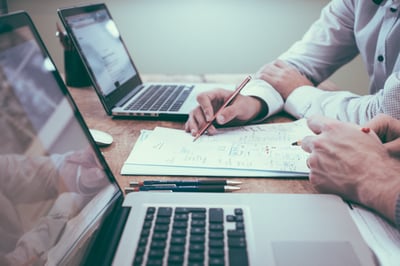 Living SJ partnered with the University of New Brunswick, Saint John to develop the idea of a "poverty 101" educational tool, into an inviting resource, Poverty 101: Looking for Answers.
The resource is a springboard for individuals wanting to learn more about poverty issues in Saint John, whether working, volunteering (board members, mentors or those involved in the community in other ways) or studying in areas related to poverty reduction.
Initial input from 30+ individuals from all sectors identified the need for something that could dispel myths, provide some definitions, include stories from individuals living in poverty, be short and free of jargon and describe what is being done. Ideas and resources were also sought from across the country. Different formats were explored and of course many drafts were developed!
Continuing input from a number of partners, including the graphic designer was invaluable to painting a succinct and clear picture so it helps readers understand and think about their attitudes and actions.
We knew that the look of Poverty 101: Looking for Answers was equally important to its content, inviting individuals and groups to view online and zero in on what was of interest. The end result is a 33-page resource with five chapters (covering introduction, facts, breaking the cycle, Saint John's story and strengthening efforts) and an appendix of materials, videos and other resources. An added component are hyperlinks throughout the document to a number of local services, government departments and local and national resources.
Poverty 101: Looking for Answers is a starting point and has sought to portray the impact of poverty on individuals and families and both the urgency and ways in our community to address generational poverty.
Poverty 101: Looking for Answers was released in October and initial comments include: good for our business leaders; can integrate into our online education for staff; specific chapters for our mentors; and great tool for our community. Involving many partners has helped to build the ownership and now the litmus test will be it use including residing on different websites.
One of the clear messages is that there are lots of questions and we need to keep learning as individuals, organizations and communities and most imperative is learning from individuals with the experience!!
Take Your Learning Further