After two years of the COVID-19 pandemic, the question for communities is no longer "if" they should act urgently to address social or environmental issues, or even "why" they should transform the ways of doing things, but rather "how to do it."


"We can't solve problems by using the same kind of thinking we used when we created them"- Albert Einstein.

How might we generate creative spaces to collaborate and think differently together in new ways? How might we imagine and test new community-led solutions? Regardless of the issues at hand or the sector, how might we innovate while engaging people with lived or living experiences in designing solutions?

At the Tamarack Institute, our experience with community change has taught us to appreciate that to be effective, Community Innovation requires an appreciation of both the issue one is hoping to address, as well as a deep understanding of the unique characteristics of the community – the place and the people within it – where the innovation will be implemented.

Among existing Community Innovation practices, Living Labs seem very promising, as it is a place-based approach that is context-specific. At Tamarack, we value that community engagement is the driving force of Living Labs and involves those with lived of living experience (or context experts).


What is a Living Lab?
"It's a creative process led by a group of people from different backgrounds, working to find solutions that respond to the needs and aspirations of their community. It's action-oriented, focusing on co-design, testing, experimenting to find new solutions."
- Danielle Lafontaire, associate professor of territorial development at the Université du Québec à Rimouski1

"Living Labs focus on designing solutions, which is an iterative cycle where we define the issue, we brainstorm on potential solutions, we move to prototype solutions, testing, evaluating and we repeat that process until the solution has the impact we had imagined from the beginning."
- Yves Doyon is a consultant working on creating a Living Lab in Sudbury.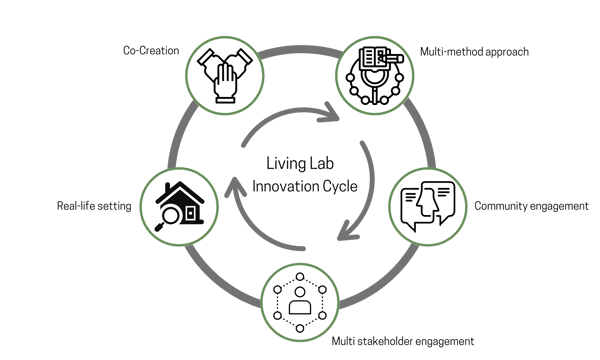 Figure Adapted from Penny Evans et al. 2017. Living Lab Methodology Handbook. p.11


Innovation is not only about technological or digital solutions. Projects arising from Living Labs can address a wide range of issues: the environment, social inclusion, agriculture, culture, energy, education and health, among others. The solutions are imagined, prototyped, tested iteratively in the community and by community members. This process may result in implementing new applications, services, approaches and practices. Innovation creates a solution that is distinct from – and more ambitious and uncertain – than continuous improvement.


Characteristics of a Living Lab
Living Labs share five common characteristics that make them a unique and original approach:
User engagement: the Living Labs approach values the lived or living experience of community members or "context experts", as central to the search for solutions.


Multi-Stakeholder Participation: while focusing on lived experience, Living Labs engages four stakeholder groups for projects to be successful: citizens, the public sector, the private sector and academia.


Co-creation: solutions are not designed by experts in a top-down fashion. Instead, they are co-created by all stakeholders in the process.


Multi-method approach: there is no single Living Labs method. Each Living Lab combines and adapts different methods drawn from design thinking, co-creation and more.


Real-life setting: an essential characteristic of Living Labs is that the experimentation of prototypes and solutions is not carried out in a "lab" setting but in the real-life conditions and context of the community.

Do you want to learn more about the potential of adopting a Living Labs approach in your community or your organization? We invite you to register for our workshop: Living Labs – A Place-Based Approach on March 3.

Our workshop partners, the Maison de l'innovation sociale (MIS) and the Living Lab en innovation ouverte (LLio) are co-facilitating with me. Discover some of their inspiring projects here:


1. Original quote was in french. Accessed from Rivière-du-Loup au cœur de l'innovation mondiale by Radio Canada


Further Learning:
Cette ressource est également disponible en français. Cliquez ici pour accéder à la page d'accueil de la version française.