On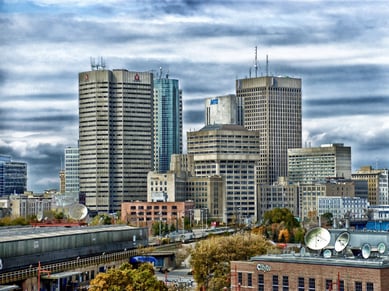 March 4, 2019, The Manitoba government released its latest poverty reduction strategy, Pathways to a Better Future: Manitoba's Poverty Reduction Strategy. The province's Poverty Reduction Strategy Act requires the province to implement a poverty reduction and social inclusion strategy, and to review and update the strategy every five years. The new strategy is an 84-page document that includes significant enhancements to the government's previous 12-page strategy, entitled All Aboard.
Pathways to a Better Future aims to break the cycle of poverty and is guided by the vision that: "All Manitobans have resources, opportunities and access to achieve a better quality of life."
The Manitoba government held extensive consultations to inform the development of the new strategy from November 2017 to March 2018 and encouraged those at highest risk of poverty, including persons with disabilities, Indigenous people, newcomers and vulnerable youth to share their perspectives. Approximately 2,000 Manitobans participated in the consultations through community conversations, workshops, an open call for written submissions and an online survey. In person sessions were held in Winnipeg, Selkirk, Brandon, Thompson, Flin Flon, The Pas and Dauphin, and more than 1,500 Manitobans responded to the online survey.
The strategy weaves in much of what the government heard through the consultation process, and will focus on 13 key indicators and initiatives in the following six priority areas:
Investing in Manitoba's future prosperity through supports to children and youth;
Working together to improve health outcomes and standard of living;
Promoting economic inclusion through employment, education and training;
Facilitating partnerships and supporting community-based organizations;
Strengthening client-centred service delivery; and
Making positive change through social innovation.
The key target of the Pathways to a Better Future strategy is to reduce the child poverty rate by 25 per cent by 2025, relative to the 2015 baseline. Data released by Statistics Canada from the 2017 Canadian Income Survey already shows a 20 percent improvement in Manitoba's child poverty rate and a 7 percent improvement to Manitoba's overall poverty rate since 2016. Manitoba now ranks second lowest among the provinces in poverty.

The new strategy also acknowledges the need to foster relationships across sectors to address a shared responsibility to reduce poverty and promote social inclusion for all Manitobans. Several of the province's partnerships with community-based agencies, service providers, Indigenous partners and other governments are mentioned throughout the strategy. For example, the Vital Statistics Agency is working with federal, provincial and municipal partners to increase the number of children in Manitoba accessing the Canada Learning Bond. Similarly, the Manitoba government is collaborating with community organizations to increase awareness and access to the Registered Disability Savings Plan.
The province also emphasizes synergies between the Pathways for a Better Future strategy with the Opportunity for All national poverty reduction strategy and recognizes the Government of Canada as a partner in the development of the Manitoba plan. Eight of the 13 renewed indicators of Manitoba's poverty reduction strategy are also included in the federal strategy, which will allow for comparison trends with other provinces and territories:
Canada's official poverty line
Core housing need
Income inequality
Not in employment, education or training
Literacy skills
Numeracy skills
Poverty entry rate
Poverty exit rate
The Manitoba government states that it will also work with the Federal Government and other partners to support the national goals of reducing the poverty rate across Canada by 20 per cent by 2020, and by 50 per cent by 2030.
Pathways to a Better Future: Manitoba's Poverty Reduction Strategy can be accessed from https://www.gov.mb.ca/povertyreduction/.
Quick Facts:
Statistics Canada's 2017 Canadian Income Survey shows a 20 per cent improvement in Manitoba's child poverty rate and a seven per cent improvement to Manitoba's overall poverty rate to 2017 from 2016. Manitoba now ranks second lowest among the provinces in poverty.

Manitoba showed progress or stability on 17 of 21 poverty reduction indicators, as detailed in the 2017/18 Poverty Reduction Annual Report; progress was made in the areas of housing, community belonging, high school graduation, wages and availability of child care, among others.
Manitoba is seeing progress in the area of employment. In 2018, there were approximately 3,600 more Manitobans employed compared to the previous year. In Manitoba the unemployment rate was 6.1 per cent in 2016, 5.4 per cent in 2017 and 6.0 per cent in 2018.
In February 2018, the Manitoba government announced the Canada-Manitoba Early Learning and Child Care Agreement with the Government of Canada. As part of this agreement, nearly $47 million will be invested from 2017/18 to 2019/20 to create 1,400 new, targeted and newly funded child care spaces, along with various other initiatives aimed at building and growing the ELCC system in Manitoba.
The government announced that it will undertake a comprehensive review of the Kindergarten to Grade 12 education system, scheduled to begin in early 2019. The review will focus on a variety of topics, such as student learning, teaching, accountability for student learning, governance and funding.

Manitoba has announced its first landmark Social Impact Bond (SIB), an innovative social finance tool that encourages partners in the private and not-for-profit sectors to work collaboratively with government to deliver community-driven, evidence-based prevention programming, where government provides a financial return based on improved outcomes.
Take your Learning Further: