In May, United Way Elgin Middlesex reported that it had met 27 of its 112 targets as part of London's anti-poverty strategy, London For All, just one year since starting its work. United Way Elgin Middlesex is the lead agency implementing London's strategy.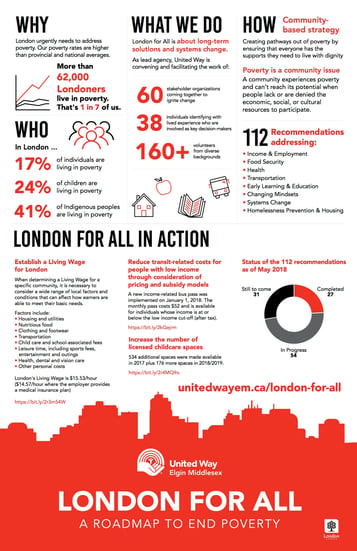 The United Way brings together partners to implement plans, ensures evaluation and accountability, reports back to the community, and meaningfully involves folks with lived experience of poverty in all aspects of the project.
London for All grew out of a Mayor's advisory panel, that operated between 2015-2016, with the ambitious goal of eliminating poverty in London within a single generation. The advisory panel used the social determinants of health model and conducted deep engagement with over 1000 Londoners to develop 112 recommendations in eight areas: changing mindsets, income and employment, health, housing, transportation, education and early learning, food security, and systems change.
Over the past year, to move the campaign forward, London for All has brought together 60 stakeholder organizations to work collectively for change. Additionally, 38 individuals identifying with lived experiences of poverty have taken on key decision-making roles. These steps are important, as they recognize the importance of engaging a diverse set of stakeholders and the vital role that individuals with lived experience play in implementing an effective poverty reduction strategy.
As part of their annual reporting, London For All noted that it had completed 27 recommendations, was in progress for completing 54 recommendations and had 31 left to start. Some of the successes from London for All are highlighted below:

Changing Mindsets
Increase the number of organizations providing Indigenous Cultural Safety Training.

Increase the number of organizations providing Cultural Competency Training.
In the past year, the Ontario Indigenous Cultural Safety program grew into a province wide program that is led and administered by the Southwest Ontario Aboriginal Health Access Centre based out of London. This program reported substantial growth in 2017.
The Cross Cultural Learners Centre (CCLC) provides workshops and training sessions on cultural competencies and also supports train-the-trainer courses to support training for other organizations. In 2017, 22 organizations and 1,200 individuals received training from CCLC. Additionally, certified individuals through the train-the-trainer program trained an additional 350 people.
Income and Employment
Establish the Living Wage figure for London.
Using the Canadian Living Wage Framework and the Living Wage Calculator, the London Poverty Research Centre and the Middlesex London Health Unit calculated London's living wage to be $15.53 an hour.
Transportation
Reduce transit-related costs for people with low income through consideration of pricing and subsidy models.
In January 2018, a pilot program was implemented to subsidize monthly transit passes for individuals at or below the low-income cut-off. Since implementation, this program has grown to 1,185 passes being sold in April.

Early Learning & Education
Increase the number of licensed childcare spaces.

Demonstrate active use of an equity lens in childcare quality strategies.
An additional 534 licensed child care spaces were added by the City of London's Children's Services with a plan to add an additional 176 spaces in 2018/19. Additionally, Strive, a group of childcare and early year practitioners in London focused on enhancing quality practices, has incorporated an equity lens to their teaching. Strive is accessible to all childcare providers in London.
Systems Change
Engage people with lived experience in democratic processes and institutions.
38 individuals with lived / living experience of poverty are involved in key-decision making roles. Any individuals with lived experience are eligible for compensation for their time and expenses associated with their participation in the work. Work is also being done to develop a City of London – Lived Experience Advisory Council.

The status of all 112 recommendations can be reviewed on the London for All website.
Learn More: