At Vibrant Communities we have seen a surge in both poverty reduction strategies at a local/municipal level, as well as a dramatic rise in the number of living wage campaigns in recent years.
The crossover between our partners that are moving the needle on poverty, and those who are advocating for fair wages is clear to see in the numbers. Of our 47 full member Cities, nearly half are actively pursuing living wage policies, and have identified the living wage among their top issue-areas.
Living wage campaigns now span from coast to coast to coast, with the recent addition of Halifax, Nova Scotia's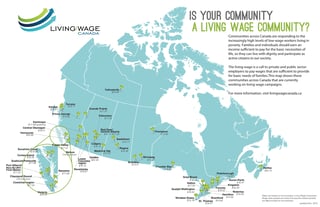 launch, Yellowknife, NWT's launch, and Victoria, BC continuing to engage employers. In poverty reduction collective impact circles, the living wage can be a point of intersection across all four sectors. Specifically:
Poverty Reduction Strategies across Canada have been local living wage campaigns as a tool to further their economic security and employment & training objectives. Specifically:
We acknowledge that living wage campaigns are one piece of the poverty reduction puzzle. We recognize that, because living wage campaigns target the working poor and their families as the main beneficiaries, and therefore do not affect people who are unable to enter the workforce or who have moved out of the workforce. But the working poor are also a much bigger portion of the population than you may realize. Between 2000 and 2005, the rate of working poor increased by 15% in Canada, and 24% in Ontario. Forty-three percent of workers are holding precarious employment in Toronto, ON, and in Medicine Hat, a living wage would benefit 6,100 full and part-time workers (1/4 of that province's working population).
In total, twenty-one Vibrant Communities- Cities Reducing Poverty members are now actively pursuing a living wage campaigns. View a complete list. Many Vibrant Communities members have strengthened their efforts by engaging businesses and the municipalities as key roundtable members or partners, enabling them to leverage living wage champions that lend credibility to the issue. For example:
While the narratives about people living in poverty often focuses on laziness and people who take advantage of the 'system', in reality most people living in poverty are working at least one job - often two or three, to make ends meet - and still do not have enough to pay the bills. For them, the impact of a living wage not only provides more financial security, but also offers a better quality of life for them and their entire family.
Learn More