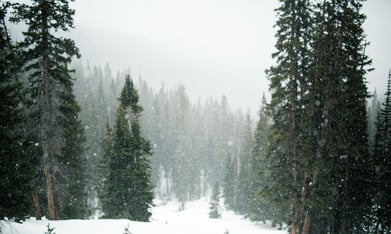 This famous holiday song brings back so many memories and instantly puts one into a joyful seasonal mood. How much has changed since the song was released in 1945? In the last few years the weather has been bringing up fear as thoughts of climate change permeate our thoughts. Happy holidays! That well-regarded greeting seems harder to share as we recognize the need for less excess – a simpler future.
The only true remedy for fear is a community working for positive change. This year our family with nieces, nephews, grandma, partners and sons will gather as we do each year for a festive meal. But instead of giving presents we have all pooled our gift money and will each advocate for a charity that matters to us. As we share stories of positive change, we will decide together which charity will get our annual family gift.
This is only one way to celebrate the holidays, but it's a great way to work together and support great community programs and activities that will help us move from fear to joy.
From all of us at the Tamarack Institute and to our members and learners in Vibrant Communities we want to thank you for the light you shine on poverty and loneliness, and for the hope and joy you bring to so many.
Cities Reducing Poverty is active in 80 Regions that include over 400 cities and communities. Citizens have bound together to develop plans – a common agenda and are working together to end poverty and inclusion. This work compels residents to become citizens, to bring hope where there is despair to provide opportunity where there is none.
Cities Deepening Community is actively building neighbourliness in over 50 regions and has developed plans for strengthening citizen engagement and overcoming loneliness in many communities. The work uncovers the isolation and lack of belonging that has blocked out joy for so many in this chaotic - hyperconnected world we live in.
Cities Deepening Community and Cities Reducing Poverty members bring joy to their local community and nationally in a time when the world so desperately needs it
As this year draws to an end and a new season shines forth birthing possibilities for a world without poverty and loneliness. May the joy we bring be contagious - brightening the soul of opportunity for a better year ahead.
From Tamarack and the Vibrant Communities Team