Montréal is the second largest city in Canada. Throughout its 375-year history,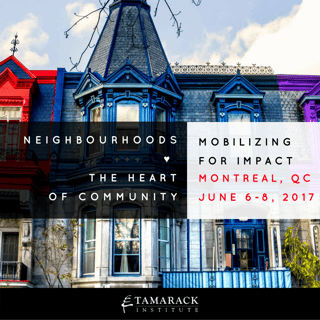 Montréal has experienced several transformations. Multiple waves of immigration have contributed to making Montréal one of the most diverse Canadian cities and a model of bilingualism and tolerance.
A significant part of the revitalization of this dynamic city is happening at the neighbourhood level. In 2015, a unique neighbourhood-based Collective Impact Project (CIP/PIC) was launched in Montréal with the collective investment of a group of philanthropic partners, led by Centraide of Greater Montréal.
The CIP/PIC is NOT a program or a fund but provides a new form of community support offered to neighbourhoods that "reinforces but does not supplant Centraide's normal funding methods." A collaborative funding investment of seven major donors has created a shared investment of $21 million over 5 years to establish Montréal's Collective Impact Project. Its aim is to invest in flexible and adaptive ways to provide "an accelerator of change that aims to increase the impact of collective action in the city's priority neighbourhoods."
In the spring of 2016, 17 Montréal neighbourhoods were chosen as the "first wave" of the neighbourhood-based Collective Impact Initiative. Each of these neighbourhoods has a unique identity as well as specific issues, strengths, challenges and vision for the future. But what they all have in common is a firm commitment to a collective process to improve their communities and their living conditions. These 17 neighbourhoods are just some of the more than 30 city neighbourhoods – each facing poverty and social exclusion – that have established neighbourhood roundtables that engage community agencies and residents in working together to assemble the resources needed to transform their neighbourhood for the better.
Tamarack is thrilled to be partnering with Centraide du Grand Montréal to host Neighbourhoods ♥ The Heart of Community: Mobilizing for Impact from June 6-8, 2017. This event will be inspired by the work of three leading keynotes. Nathalie Fortin, Chair of the Montréal Neighbourhood Tables Coalition and a long-time community activist; international neighbourhood-builder Michael McAffee, Co-Director of the Promise Neighborhoods Institute (PNI) and Vice-President for Programs at PolicyLink; and, renown community-builder John McKnight, co-founder of Asset-Based Community Development Institute who will also be sharing his latest thinking on what it takes to ensure that residents and organizations can work effectively together. We hope that you can join us!
Learn More