Our team at Tamarack has been looking forward to June for so many reasons - one of which is the official launch of the Communities Building Youth Futures Initiative (CBYF).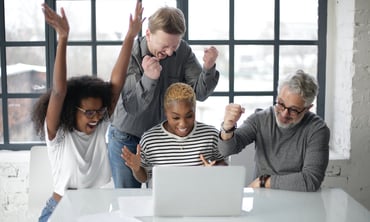 Last week, we officially launched CBYF in Tamarack's June Engage, with a message from Alexis Conrad at Economic and Social Development Canada (ESDC), information about our Youth Photo Exhibit, video clips from Monique Miles, blogs on youth engagement, and much more. Learn more about CBYF, Tamarack's 5-year youth-focused Collective Impact initiative.
Over the last few months in the midst of a pandemic, the 13 CBYF communities have been getting to know the scope, intent, and goals of the CBYF initiative and the Collective Impact approach. They have worked virtually with their partners to design what this means for each individual community. All with the goal of having membership details in place for a June on-boarding! We want to acknowledge and thank the 13 CBYF communities for this.
Take a look at the map below to see the 13 communities involved in the CBYF initiative: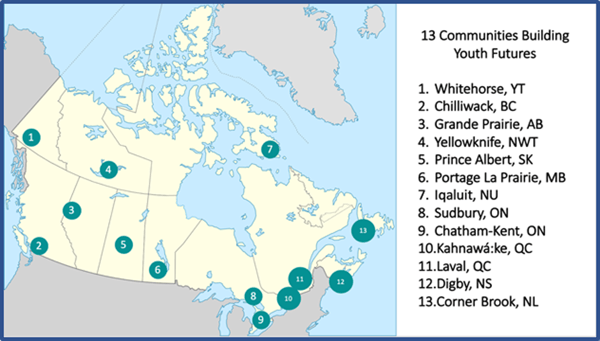 We will also be finalizing our first round of CBYF Community Innovation submissions this month and we will be launching a 4-part series on Youth Engagement. That's a lot of exciting work!
So, as communities head into the next phase of the Collective Impact work to build a Common Agenda, and as we continue to set the foundation for the next 4 years of the CBYF initiative, we will use our newsletter to share with you our tools, resources, stories, learning opportunities and upcoming events.
There are a lot of us heading out on this journey together: youth who will help lead, shape, and guide our collective impact; 13 communities who will help build and learn through this initiative at the community level; national youth serving organizations who will work collectively at helping to identify policies and practices that remove barriers for youth; and government partners who have not only funded this initiative but who understand the importance of working with and for youth.
If you are not yet subscribed to the newsletter, sign up here and join the CBYF journey as learners.