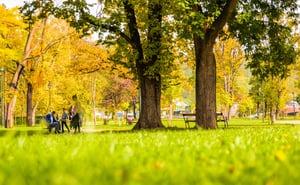 Ever notice how the design of public space can shape the behaviour and interactions of people within it? Think about how likely you would be to ride your bike to the park instead of driving, choose healthier foods, or stop to chat with neighbours if you didn't feel safe or if the services you need are not accessible or affordable. Our health is significantly influenced by the design of our communities, and partnering with local governments in our public health efforts is a powerful strategy to encourage healthy living and prevent chronic disease.
To support the integration of health considerations within community planning and design, BC Centre for Disease Control Population & Public Health maintains a reference resource called the Healthy Built Environment Linkages Toolkit: Making the Links Between Design, Planning and Health (Version 2.0, 2018). Since its original release in 2014, the HBE Linkages Toolkit has been rapidly adopted by health professionals and others who collaborate with local governments for credible health research and key messages.
Based on literature reviews and weighted assessment criteria, the HBE Linkages Toolkit considers five core "features" of the built environment: neighbourhood design, transportation systems, food systems, natural environments and housing. These five features are unpacked to present a synthesis of research relationships between planning principles and health outcomes. Heathier weights, for example, are associated with the walkability of our neighbourhoods and transportation systems. The current version also includes new practice considerations for small and medium sized communities, research findings related to the economic co-benefits of promoting healthier built environments, and highlights health outcomes related to social well-being.
In addition to promoting healthy living behaviours, community design can also reduce environmental health risks associated with chronic diseases and conditions like cancer, cardiovascular conditions, mental illness, as well as preventable injuries. There is strong evidence that expanding natural elements across the landscape can decrease cardiovascular mortality by mitigation of urban heat islands and air pollution. Site and zoning bylaws which minimize exposure to environmental hazards are also associated with a decreased incidence of cancer via the intermediary effects of decreased radon exposure.
Interestingly, positive health outcomes can often be triggered through more than one aspect of the built environment. Improved mental health and social well-being, for example, can be supported across all aspects of the built environment via potential planning interventions described in the Toolkit. This allows health professionals the flexibility to weigh planning options and consider multiple health priorities and diverse contexts when in consultation with local governments on local area planning processes.
Intentional community design can even help shift broader social determinants of health when planning principles acknowledge and address inequities. For example, the inclusion of different types of housing in a community is shown to positively influence residential instability and financial stress. Equitable access to affordable healthy food options is strongly associated with improved diet quality and food service options.
The HBE Linkages Toolkit is supported by the BC Healthy Built Environment Alliance (HBEA) Steering Committee, and is maintained in close collaboration with partner organizations and content experts from regional health authorities, universities, local government and non-profit organizations.


Learn More: