The Cities Innovating to Reduce Poverty Eastern Regional Summit took place in Mississauga from September 18 – 19th bringing together 206 learners from more than 29 cities and communities from across Eastern Canada. This included government and public sector staff, elected officials, community agency leaders, and interested residents collaborating to learn from one another on how we end poverty in Canada.
Throughout the day and a half, we experienced special plenary sessions, interactive workshops, innovation tours throughout Mississauga, and participated in Peel Poverty Reduction Committee's new 10-year strategy launch.
@Khan_Nauman Ilmana & Chris, @UWGreaterTO's dynamic duo welcoming delegates to #CRPEast with whole lotta #LocalLove!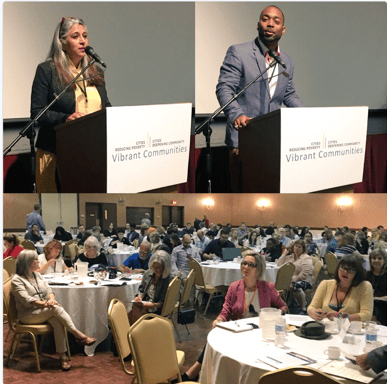 Event Plenary
The Summit included seven plenary sessions featuring a panel of members describing the unique work of local Cities Reducing Poverty initiatives, presenters with lived and living experience speaking to why this type of collaborative poverty reduction work is so important, a compelling address on the right to live free of poverty by Alan Broadbent, a discussion with innovators and federal policy makers exploring the important connections between poverty reduction and social innovation, a look at the State of Cities Reducing Poverty, and great examples of how we must track and report impact using both numbers and narratives.
@DeepakAnandMPP Honoured to be part of #conversation here at #CRPEast conference. Your living stories are inspiring. I'm sure together we'll make our world a better place. @Peel_Poverty #Mississauga
@RoxanneRiddell So proud of Marci representing LFA at #CRPEast on behalf of @unitedwayemca
@Peel_Poverty Our panel discussion about communities collaboration for change is off to a great start! #PovertyConference #Tamarack #CRPEast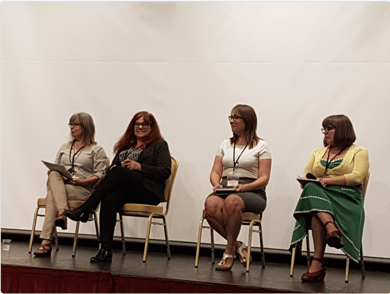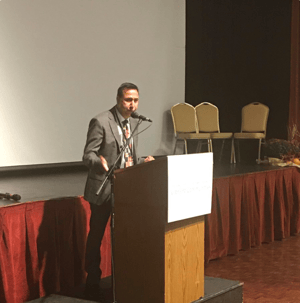 @Julie_MacIsaac Honoured to hear a powerful talk by Alan Broadbent at the #crpeast summit. "Human rights are an empty promise without giving people access to these rights". @VC_Canada
@HaltonPovertyRT Listening to @adam_vasey speak about the very important work that Cities Reducing Poverty are undertaking across the country. The time is now. Movements are underway and we are better together. #poverty #eliminate #povertyreduction #CRPEast
@Letsstrive_ Good challenge from Kelly Lawless - how can we put #livedexperience on the payroll #crpeast #poverty #equity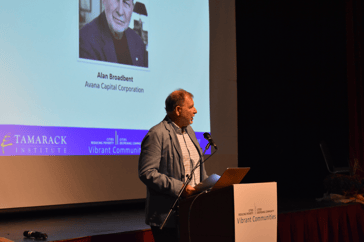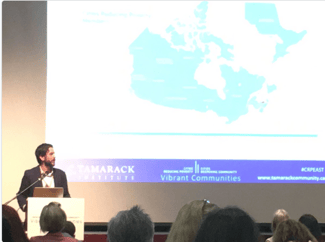 @AllysonHewitt Discussing the impact of the Living Wage campaign to drive up minimum wage in Canada thus markedly reducing poverty. We have the will and ability, we can change systems #CRPEast @paulborn
@WinnipegPRC Social Innovation starts with sharing 'break through' ideas that stimulate cross-sectoral work for transformative impact #CRPEast
@PrincieSibanda If not us now then who? We have the ability, we need the will to eradicate poverty@ Allyson Hewitt #crpeast
@ZEEQUEUE Imagine no smoking in public spaces, gay marriages. They are happening now. Just shows efforts of change work." #CRPeast @AllysonHewitt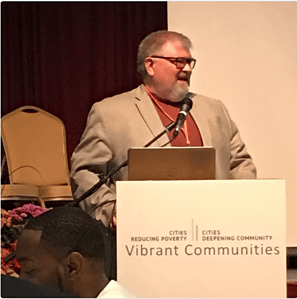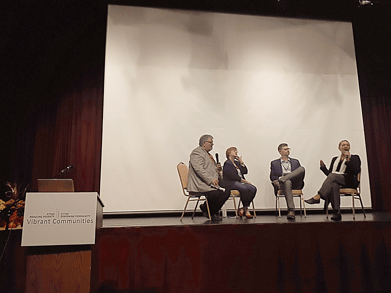 @ZEEQUEUE "Success does not come with occasional effort. Success comes with persistent effort." #DesireeLewis #CRPinAction #CRPeast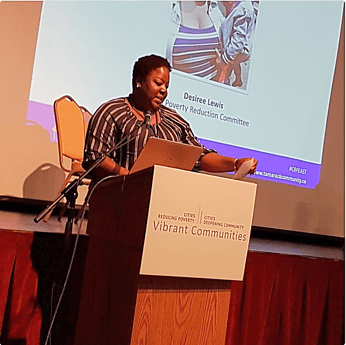 Breakout Sessions
Eight workshops were held at the John Paul II Polish Cultural Centre on topics such as: the municipal role in poverty reduction, how income security movements can work together to end poverty, hosting community conversations for large scale change, establishing a common agenda for collective impact, a deep dive on Toronto's Lived Experience Advisory Group (LEAG), human rights in the non-profit sector, and examples of social innovation in-action in rural and urban communities.
We also structured some breakout sessions to be more hands-on by bringing attendees on a tour to sites of social innovation throughout Mississauga. The three places we visited each play an important role in Peel's poverty reduction work, and we were able to meet with key people and explore the places that are turning strategy into action every day. The tour group visited a youth village providing safe stable transitional housing, a food centre providing dignified access to food and developing food skills, and ended at the library where they are piloting a housing outreach prevention social worker at the downtown branch.
@dougkwanMCLS I'm blown away by all of the great work by #peelyouthhvillage @EdenFood4Change @mississaugalib #openwindowhub on the @Tamarack_Inst bus tour. I will definitely bring this back to my clinic to improve our services. #CRPEast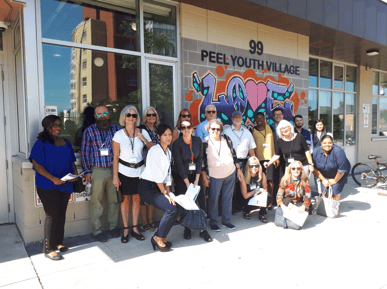 Evening Reception and Strategy Launch
On September 18th, our main partners, Peel Region and the Peel Poverty Reduction Committee, hosted a reception at Mississauga City Hall to officially launch their new 10-Year Poverty Reduction Strategy. Building off the success of the first three year plan, we heard that the strategy will focus on three priority areas: Income Security, Economic Opportunity, and Wellbeing and Social Inclusion.
@Sheehy_Janice Co-chairs of the Peel Poverty Reduction Committee - Anita Stellinga and Sonia Pace, launch the new Strategy! #CRPEast
@HaltonPovertyRT Peel is the first region in Ontario to develop a 10 year Poverty Reduction Strategy. Hoping Halton Region is close behind!! #Poverty #CRPEast #HaltonON congratulations @Peel_Poverty on an excellent plan.
@RasheedaQureshi Peel is the first region to develop a 10 year Poverty Reduction Strategy says @PaulBorn of @Tamarack_Inst. Great
to be here at the beginning of our journey to conquer #Poverty #RootItOut #CRPEast @Peel_Poverty @SevaFoodBank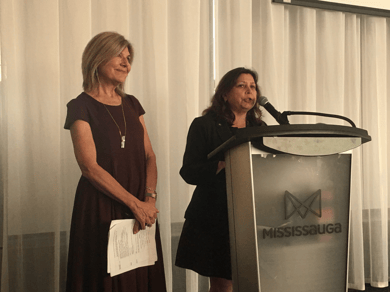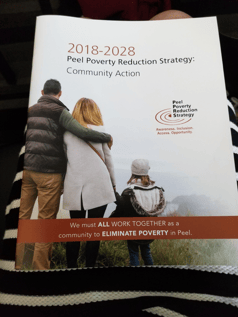 On the heels of the release of Opportunity For All - Canada's First Poverty Reduction Strategy – and the establishment of our first official poverty line - the Summit provided us an opportunity to come together and be inspired by the breadth and depth of compelling poverty reduction work already happening each day; and to recommit ourselves to aligning with governments at every level, residents, the private sector and community agencies to do, what Mark Cabaj calls, "tireless incrementalism" to end poverty.
We would like to send another big thank you to everyone who attended and contributed to the learning, and to all of our partners who worked tirelessly to make this gathering possible.
Learn more