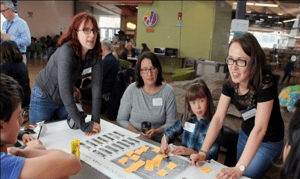 A few years ago, I read a book called "Trying Hard is Not Good Enough" by Mark Friedman. The book talks about how initiatives can be complicated and complex, and therefore this makes it hard to reduce evaluating these initiatives to a set of numbers and equations. Mark suggests that we need to talk about the story behind the data. Look at the stories, anecdotes and accomplishments that explain what the data is saying.

Last spring, I was introduced to Vivo's evaluation strategy and learned how they use systematic observation to inform their data. Vivo is a charity on a mission to raise healthier generations in Calgary and beyond. Their roots are in north-central Calgary where they create local, evidence-based solutions to help individuals be healthier and more active at home, school, work and play.
One of Vivo's core values is Impact. This means they focus on the things that matter. How do we know that what we're doing is achieving the difference we want to make? Vivo has explored many different tools for evaluation. One that they keep coming back to is systematic observation. Vivo keeps using this method because it is validated, rigorous, customizable and simple enough that anyone in the community can become a part of the research team.
Systematic observation has allowed Vivo to gather information about who is using the play spaces in and around their neighbourhoods. They collect data on the level of physical activity, the type of social interactions, the time of day parks are most popular, the gender balance, what kind of play is happening and the age of participants by category (child, teenager, adult etc.). They compile thousands of data points to identify trends and make recommendations about optimal and underutilization.
The Vivo Case Study explains their four-step process and shares lessons that they have learned through implementing it. This Case Study demonstrates that evaluation does not always have to be complex and that systematic observation can be a simple and easy way to evaluate the 'why' and not settling for just the 'what'.
Learn more: