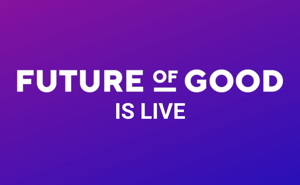 Future of Good launched a new digital media platform dedicated to illuminating stories, innovations, and trends shaping social impact in Canada. At this exciting time of massive growth and rapid change, the world of impact in Canada deserves smarter coverage and impact-focused people deserve smarter insights.
Their digital content is organized around core obsessions, including:
Platforms, Places, and Spaces
Inclusive Capitalism and Markets
Emerging Technologies and the Human-Data-Machine Relationship
Canada's Social Impact Role in the World
Inclusion, Diversity, and Decolonizing Impact
Social Impact Work: Today and Tomorrow
They combine storytelling and content curation with editorial craft to engage a Canada-wide audience with smart insights, stories, guides, and commentary.
Good exists in every sector and in every industry. Good isn't owned by any one. Impact-focused people are everywhere. There are small acts and big acts. There are professionals and there are passionate amateurs. There are people who are loud about it and there are people innovating underground because they have no other choice. All of these people make up our beautiful universe of doing good. Future of Good is a platform and community for impact-focused people doing good in Canada to gain insights about our work and the future of it.
Learn More
FutureofGood.co

is founded by Vinod Rajasekaran, former executive director of Impact Hub Ottawa and former managing director of Rideau Hall Foundation.

Sign up

to join the beta community and read exclusive content.