This resource is also available in French. Click here to access the French version.
This blog post by Omolola Akinyemi and Jorge Garza outlines communities across Canada that are bringing people together to generate belonging and strengthen neighbourhood capacity to solve local challenges.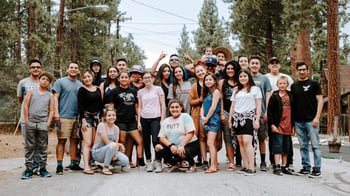 Nigerian artist Ebenezer Obey narrates in one of his songs the experience he had during a trip to the United Kingdom in which a fire incident was averted by a vigilant next-door neighbour. The woman in his song knew there was no one at home but noticed smoke emanating from the house. Her urgent phone calls and shouting on the streets were critical in avoiding a disastrous scenario.
Communities are groups of people that are bound by a common purpose and share a deep sense of belonging. While communities are rooted in places, people's connections with one another can sometimes transcend the geographic space as the internet and social media continue to bring us together in unique ways. Having a common purpose can be powerful in mobilizing residents to collaborate on shared goals and practice "good neighbourliness." When neighbours cultivate relationships and support each another, we are collectively strengthening community resilience, wellbeing and emergency preparedness, especially during these difficult times.
Encouraging people to connect with their neighbours allows us to act collectively to tackle complex challenges. As natural disasters become more frequent and intense due to climate change, the speed and effectiveness of community response is critical to reduce risks, ensure that the needs of those most impacted and vulnerable are a central focus of community groups and that these populations are also engaged in the planning process.
There are several stories of communities across Canada that are bringing people together to generate belonging and strengthen neighbourhood capacity to solve local challenges.
Inspired by the Asset Based Community Development model, LifeSchoolHouse brings people together through classes that are hosted by residents and contribute to fostering social change, strengthening community resilience, and building social capital. Individuals can provide space in their own homes and are compensated by items or gifts brought by class attendees.
Another example is The Thingery, a series of community tool equipment libraries in which residents have access to items that enable them to pursue their passions while contributing to reducing their ecological footprint, strengthening neighbourhood connectedness and decreasing the production of material waste.
Participatory Canada is also collaborating with communities to tackle some of Canada's deepest challenges. This platform brings together residents, neighbourhoods, organizations and governments to create robust social infrastructure that support community and ecological wellbeing.
While each of these examples is unique in its approach, they share a deep commitment to strengthening social capital and enabling community leadership to advance transformational change. To ensure that communities are prepared to mitigate the catastrophic effects of climate change and transition to a low carbon future, municipalities need to work with residents in strengthening and leveraging what works well locally.
The solutions to curbing (climate change) are systemic, large-scale and societal. But to get there, we need many small-step solutions in the right direction .... Societies change when citizens start to act together with others – Per Espen Stoknes
What is your community aspiration for the future? How are your collective efforts supporting ecological and community wellbeing? Do you know of other neighbourhood stories of residents collaborating for more equitable and just futures? We'd love to hear from you! Get in touch with us: laura@tamarackcommunity.ca
Dive deeper: