This year both the Tamarack Institute and New Zealand-based Inspiring Communities celebrate milestones (15 and 10 years respectively) in our efforts to empower, grow, support, connect and learn from diverse community-led change efforts. Following on from our co-authored Reflections on Community Change paper released last month, the Inspiring Communities team shares more on the process involved in crafting community-led development principles for a New Zealand context.
Describing, distilling and promoting key principles that drive and reflect effective community-led development (CLD) here in Aotearoa New Zealand has been an ongoing focus for Inspiring Communities. A decade on, we now have a better understanding of how complex community challenges can be enabled through a place-based approach that builds from five core principles:
Grow from local visions
Build from strengths
Work with diverse people and sectors
Grow collaborative leadership
Learn by doing
These principles have emerged from observing and learning with community-led initiatives large and small, rural and urban and with different sector focuses. While they have been refined several times, they have proven robust and valuable for communities and agencies collaborating to create positive change.
We see the CLD principles as core in shaping the values, spirit, mindset and approaches of changemakers in all parts of the system. While at different times some principles may be more in play than others, collectively they remind us what matters, helping guide our 'why, what, with who and how' in a practical, real-time way.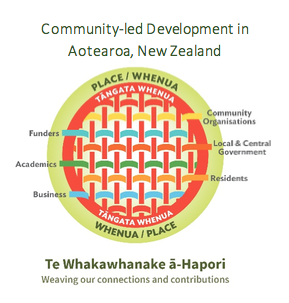 Over the last few years, we have also become clearer on what makes our CLD framework unique – our land, our people and our context.
In Aotearoa New Zealand the Treaty of Waitangi ensures the histories and world views of tāngata whenua (Māori, the indigenous people of Aotearoa) shape relationships, actions and outcomes in local communities. Māori tikanga (values and practices) also strongly influence our community change context. We have sought to better reflect both the Treaty and tikanga in our framing of both CLD and the core practice principles.
To do this, we took advice from people we trusted; Māori and Pākehā (non- Māori) who work and walk in both worlds to decide how best to proceed. What came from this dialogue is that there are many synergies between community-led and Māori-led development approaches and understandings. There is also no single right way for how things could or should best be done.
Based on the premise that CLD is all about harnessing multiple connections and contributions to place, rather than develop a separate Treaty/Māori specific principle, we chose to integrate a Te Ao Māori (Māori world) lens within the CLD framework. Similarly, rather than adopt the usual direct translation approach, we instead linked each CLD principle with an aligned whakataukī (Māori proverb). For example:

But while alignments are useful, sometimes they don't take you far enough. Recognising that there wasn't an equivalent term for CLD in the Māori language, we took the brave step of creating new language to reflect what lies at the heart of a community-led development approach – an interweaving of relationships, contributions and connections. To do this, we worked with a specialist linguist and Te Reo Māori language speakers to create a new term for CLD in Māori – Te Whakawhanake ā-Hapori.
As an organisation we have agreed to own our own 'learning by doing' in this process. The ultimate test will be how the revised framework lands in, is used by and is further transformed with and by local communities here in Aotearoa New Zealand. We certainly expect it to continue to evolve!
Learn More: