In May 2021, Tamarack's Communities Ending Poverty (CEP) convened more than 1000 people for The End of Poverty national gathering. The event explored 14 proven and emerging pathways to ending poverty, and the many roles that governments, businesses, non-profits and experts with lived and living experience can play.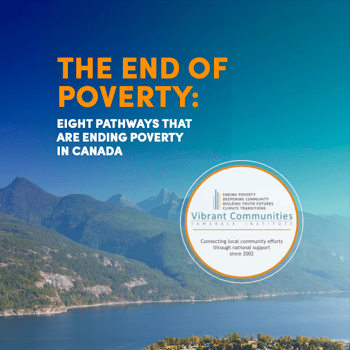 Following up on this event, CEP has released an Ending Poverty Pathways Guide and Ending Poverty Pathways Podcast Series that capture the voices of CEP's top thought leaders, partners and members.
On October 20, we're also hosting an Ending Working Poverty in British Columbia webinar, which will feature Hon. Nicholas Simons, Minister of Social Development and Poverty Reduction, as he speaks to how BC is making strides toward the end of working poverty by taking an inter-ministerial approach, rolling out mutually reinforcing benefits, making childcare more affordable, legislating paid sick leave, promoting decent work and inclusive hiring, and more.
CEP's guide and podcast series feature the following innovative ideas that are both transformational and backed by significant Canadian evidence:

• Ending Working Poverty: Increased minimum wages, mutually reinforcing government benefits, full-time and full-year decent work, inclusive hiring practices, and training opportunities that overcome barriers to employment could cut Canada's poverty rate almost in half.

• The Federal Government Ending Poverty: Canada's national poverty reduction strategy serves as an overarching framework for ending poverty in Canada. It engages governments, businesses, non-profits, and citizens in mutually reinforcing activities that support the strategy's goal of reducing poverty by 50% by 2030.

• Provincial and Territorial Governments Ending Poverty: Provinces and territories create a critical link between Opportunity for All and the crucial place-based work that is happening in cities and communities as they develop complementary benefits and fund local poverty reduction strategies, collaboratives, and efforts.

• Cities and Communities Ending Poverty: Through comprehensive and multi-sectoral approaches, CEP members develop and implement plans to reduce poverty in their communities, influence policy and systems change and build a critical mass of support with the public and with decision-makers.

• A Basic Income for Ending Poverty: A national Basic Income program could establish an adequate minimum income floor, complement social supports and good public policy, and support people that are currently falling through the cracks of Canada's safety net.

• Quebec's Childcare Policies for Ending Poverty: Learning from Quebec's innovative approach can help guide the federal government and Canada's provinces and territories to develop the nation's first early learning and child care system.

• Built for Zero Canada (BFZ-C): BFZ-C's agile and data-driven model and methodology is demonstrating real success in ending homelessness across Canada.

• Ending Indigenous Poverty: Ending poverty efforts need to put Indigenous peoples and communities at the centre of conversations, address trauma and systemic racism, and build self-determination.

Between 2015 and 2020, Canada lifted 1.3 million people out of poverty. Our nation's poverty rate had dropped to 10.1% – the lowest in recorded history. Throughout COVID-19, CEP members have supported their communities to respond and recover, while concurrently keeping their sights set on our ultimate collective goal – the end of poverty in Canada.

While the pandemic has presented life-changing hurdles, it has also served as a catalyst for change. It has fostered stronger relationships, new collaborations, innovative ideas, and discontent with the status quo.

Ultimately, communities and governments at all levels have proven that together, we can end poverty in Canada. We hope that the Guide and Podcast Series will help you to make the case for these pathways as you speak with your colleagues, partners, friends and family, local business owners and government representatives.

Resources:
• Ending Poverty Pathways Guide
• Ending Poverty Pathways Podcast Series