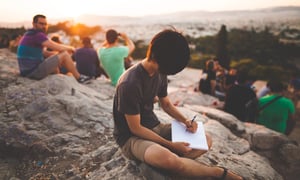 The world of youth engagement is entangled with false assumptions, presumptuous understandings, and little follow through. However, if it is done right professionals are given the rare opportunity to work meaningfully with youth to achieve a beautifully co-created outcome that can radically change a community.
Recently I had the privilege of hearing an individual who has experienced great success in their engagement work. But they were quick to point out the negative perceptions that can often surround engagement work due to good intentions gone bad, and lack of follow through.
I believe that engagement work is important to the vitality of a community and imperative to develop effective services to address complex problems with a sensitivity to the specific place they will be implemented. When working with youth it is important to remember that they are highly intelligent individuals, with relevant ideas, and a desire to see things get done. (Not all that different from any other group we want to engage.) So how do we set the stage for youth engagement work to begin?
Belief in the work
Do you believe that youth engagement work has the ability to positively impact the community, and that services that are co-created with youth are more effective and better able to meet the needs of youth and families in your community? This belief is crucial for youth engagement efforts to be successful. Why you do the work is just as important as how it is done.
First things first: build rapport
Nothing can be done until you take the time to get to know the youth, and they have the opportunity to get to know you. The real you, not your professional LinkedIn bio, but who you are as a person. Part of this trust is built through the interactions you have on a regular basis. This requires that the time and willingness to make this investment is built into your engagement planning. The value of rapport becomes clear in the points that follow.
Be transparent
Tell them upfront why you are there; where and how the information you are collecting from them is going to be used; and, what outcomes they can hope to see come to fruition. Let them know the hard truths about what can and can't be done and be open about what you are capable of achieving in your role.
Be humble
You aren't meant to come in with the answers, but you are meant to provide the opportunity for youth to discover and co-create the answer with you and support them in making that outcome a reality. Remember, you aren't going to see everything the same so be open to new ideas, concepts and how those ideas are delivered.
Meet them where they are
This means going to the youth. Whether it is at school, drop-in programs, support groups, youth advocacy groups, it is places where youth already meet. Why? Because all too often in engagement work we pull youth together to get information for a project and when we are done the group folds. This creates distrust which can make it difficult for these youth to be re-engaged. By meeting youth where they are, you can support them with their causes (think big!), as well as provide opportunities for them to engage in projects that fit their interests. This also allows you to work with multiple groups of youth to provide more opportunities for partnering and input.
Follow up
Visit the youth on a regular basis. Provide updates on how the information is being used, and the status of the project. Follow-up visits also provide opportunities to continue to work together on the projects, or support them with a project of their own. Real relationships are created through investment and go both ways! Make sure to check in regularly to make sure the youth remember why you are there; how their information is being used; and, always ask if they want to continue to participate, don't assume!
Hart's Ladder of Participation
Hart's Ladder of Participation is a simple tool that can be used to evaluate how you are currently engaging youth and where you should be on the ladder. It can also act as an accountability check.
Give credit to the youth
Make sure the youth know you are grateful for their input, ideas and partnership. Make sure they receive the credit and recognition for the work that is being done!
Working with youth is incredible, but so is the responsibility. Make sure youth are taken care of when engaging them in your work!
Learn More: