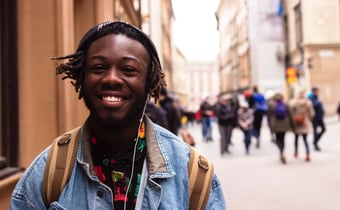 We are all familiar with the old adage that "it takes a community to raise a child", but translating that wisdom into high-impact action is anything but simple. In particular, developing innovative and effective strategies to address the needs of the growing percentage of youth who are neither in school nor at work is an area of specific focus for many communities throughout North America. That is why we are fortunate to have to have examples such as Canada's Pathways to Education and a new research brief, Building Partnerships: In Support of Where, When, and How Learning Happens published by the Aspen Institute, to offer a richer understanding of the interconnected factors that enable young people to thrive and demonstrate that by working together collaboratively across sectors, communities can achieve high-impact results that ensure promising futures for all youth.
Canada's Pathways to Education uses a multi-sector collaborative approach to provide youth from low-income communities with opportunities to break the cycle of poverty through education. The Pathways' approach offers youth 4 types of support – academic, financial, social and one-on-one support – in a coordinated way that significantly increases the odds that these young people will graduate from high school and "build a foundation for a successful future."
Pathways to Education launched in Toronto's Regent Park neighbourhood in 2001 and honed its approach over the next 4 years. In 2005, Pathways to Education began intentionally partnering with other communities across Canada interested in replicating its approach. Today there are 20 Pathways to Education initiatives operating in 8 provinces and its impact has been impressive. Data from the 2015-16 school year show that:
78% of Pathways youth graduate high school within five years;
Graduation rates have improved by an average of up to 85% across communities where Pathways Initiatives are offered;
73% of all Pathways youth go on to post-secondary education or training; and,
A Boston Consulting Group study found that for every dollar invested in Pathways, there is a $24 social return on investment.
Martha Krzic, Pathways to Education Canada's Director of Programs says that while every Pathways initiative is tailored to the unique realities of its community, Pathways Canada uses the following values to guide their partnerships and programming:
Strength and potential are always the starting points for Pathways work
Partnerships power the work of Pathways
Excellence is achieved through evidence
Adaptability is Pathways' advantage
Impact is the End Game
Pathways to Education Canada continues learning and refining its approach however, their results, as well as new research published by the Aspen Institute, confirm that many of the elements of their approach are getting it right.
Building Partnerships: In Support of Where, When and How Learning Happens is a new report by the Aspen Institute's National Commission on Social, Emotional and Academic Development, chaired by Karen Pittman, CEO and Co-Founder of the Forum for Youth Investment. Forty organizations collaborated for two years to create a more in-depth understanding of how, when and where students learn.
The commission used a youth development approach – committed to meeting young people where they are, physically, academically, socially and emotionally – and focused on supporting youth to "build the relationships, competencies and confidence they need to succeed in life."
The report's framework considers how a young person's success is shaped by the following three sets of factors:
Attitudes, Beliefs & Mindsets – A young person's behaviours are shaped by attitudes, beliefs & mindsets which reflect their feelings and opinions about themselves, others and their own circumstances
Character & Values – These are ways of thinking & habits that support young people to work together as friends, family & community they include caring about & acting with honesty, integrity & compassion and being civically engaged.
Skills & Competencies – There are at least a dozen specific behaviours that are important to successful learning. They can be modelled, taught and learned over time. These competencies fall into 3 broad categories:

Cognitive Skills & Competencies – These include: the ability to set goals; the ability to plan & organize & the ability to problem-solve and persevere.
Emotional Skills & Competencies – These competencies include the ability to: recognize & manage your own emotions; understand the emotions & perspectives of others; and, demonstrate empathy
Social & Interpersonal Skills & Competencies – These competences include the ability to: navigating social situations; resolve conflicts; demonstrate respect towards others; and cooperate and work on a team.
The report goes on to emphasize the importance of embracing a whole community approach to supporting youth learning and identifies the following four collaborative actions that communities can take to make this happen. These are:
Broaden the Community's Vision – Create a shared understanding of the differences in opportunity that exist across the community that is rooted in an appreciation of how & where learning happens
Provide Shared Access to Transparent Data – Ensure access to transparent data for all about whether and how students are finding and participating in learning that best supports their social, emotional, cognitive, and academic growth.
Ensure a Rich Array of Quality, Year-Round Learning Opportunities – Provide all the community's young people with access to a rich range of high-quality, year-round learning opportunities, throughout their developmental years. Work collectively to identify and eliminate community gaps.
Generate and Align the Needed Capital to Realize the Shared Vision – Find, align, and generate sufficient financial, human, management, and professional development resources to advance the shared vision as collaborative partners systems.
The Aspen Institute's latest research and the experience of Pathways to Education offer knowledge and insights for how the wisdom and capacity of communities can be harnessed to create an environment where all young people can access the supports they need to reach their full potential.
Learn More: