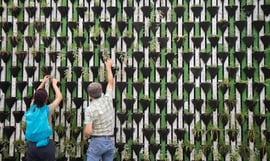 Community change initiatives are often set against complex and systematic problems – problems that cannot be solved in isolation and without authentic support from community stakeholders.
My new paper Community Engagement: A Foundational Practice of Community takes a closer look at the practice of community engagement and its contribution to the work of community change. It confirms the value of engaging community stakeholders and those with first-hand experience of the issue being addressed; acknowledges the real tensions and challenges that arise when residents and organizations work together; and offers insights and tools for how these can be addressed. It also offers ideas and examples of how and why the nurturing of community ownership and leadership in any change effort is essential for its long-term sustainability and success.
My paper is the first in a series of papers being prepared in the lead-up to our upcoming Community Change Festival, that is being hosted in Toronto from October 1-4, 2018. The Community Change Festival welcomes practitioners from around the world to expand their skills and knowledge as they share and learn together with fellow changemakers. It offers a unique opportunity to deepen the effectiveness of your community change efforts with learning that is focused on the five interconnected practices of community change:
Collective Impact
Community Engagement
Collaborative Leadership
Community Innovation
Evaluating Impact
Our experience has taught us that the most effective community change efforts braid together elements of each of the five practices. Over the summer and leading up to the Community Change Festival, Tamarack will be taking a focused look at each of the five practices and the connections between them. Follow along and join us at the Community Change Festival as we explore all of the tools you'll need to accelerate your impact as a community changemaker.
Learn More: