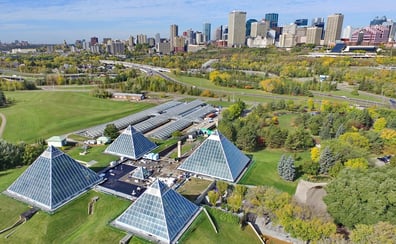 A Profile of Poverty in Edmonton (2019) was produced through a partnership betweenEdmonton Social Planning Council and EndPovertyEdmonton. The report provides community, support agencies and government an important understanding of what poverty in our city looks like. It also draws attention to the socioeconomic factors that cause it.
The Edmonton region has 1 in 10 people experiencing poverty, or 119,950 people. A family of four is considered in poverty when their income is about $39,000 a year or less. The data shows 53% of those experiencing poverty are women, 11% identify as Aboriginal and 42% identify as visible minorities. 9,705 lone parent families are living in low income, of these 8,460 families are female-led.
"This is the kind of information that helps us all see the value of the great collective work being done and the further work needed in our city," says Michael Phair, co-chair of EndPovertyEdmonton's Stewardship Round Table. The full complement of data available in A Profile of Poverty in Edmonton (2019) reaffirms initiatives like increased access to affordable transit, affordable child care, and child tax benefits have helped.
To support the Edmonton definition of poverty that goes beyond income to include social and cultural contexts, the report divides information between income measures and game changer themes, where measures relevant to the root causes of poverty are represented. These measures include housing need (1 in 5 families), food bank use (averaging 22,033 people/mo) and an understanding of where poverty occurs in Edmonton (not just downtown.)
"We have to understand who is most vulnerable to experiencing poverty, where they are and what their experience is. That's why it's so important that we have partners like the Edmonton Social Planning Council who can help the whole community access and understand the data," says Phair.
"It's an intensive and important effort to bring all this information together in one place," says Edmonton Social Planning Council's executive director Susan Morrissey, "So we're grateful for partnerships that allow that work to happen and to put forward recommendations that will aid in the work to end poverty in Edmonton."
Reposted with permission from: https://www.endpovertyedmonton.ca/news-blog/2019/8/1/a-profile-of-poverty-in-edmonton-release
Take your learning further: