How can the community be active agents of change? What's the process of creating an effective story? What's the best way for a story to motivate action? In an age of fast communication - of snippets, of 140 characters, of 7 seconds to grab attention - it is easy to reach people, but how can we use stories to truly connect?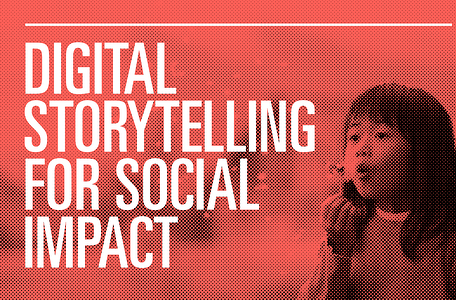 Since the beginning of time, stories have been used as an emotionally powerful and authentic way to articulate change and impact in a person's life. And now, the technology to create, curate and share content is prolific and accessible. The Rockefeller Foundation recognized this opportunity at the intersection of storytelling and technology and launched a project to look at "the role that digital technology can play in elevating the practice of storytelling as a means to improve the well-being of the poor and vulnera ble around the world."
The project consisted of interviews, roundtable discussions, a technology platform assessment, and analysis of supply and demand, and resulted in a guide filled with insights, recommendations and tips for anyone who is looking to strengthen the practice of digital storytelling in the social impact sector. The guide explores five key components of digital storytelling:
Strategy - How can digital storytelling help social impact organizations advance their missions?
Capacity - What resources and skills do individuals and organizations need to shape and share their stories?
Content - What are the elements of compelling and motivating stories?
Platforms - What technologies are available (or needed) to help people curate, house and share stories?
Evaluation - What simple, effective and meaningful metrics can be used to evaluate the effectiveness of digital storytelling?
In digital storytelling, it is important to always start with a goal in mind - what is the impact we're trying to achieve? Effective digital storytelling needs clear goals, identified target audiences, and specific objectives in capturing the stories. Creating stories is a meaningful form of community engagement and there are techniques to guide someone through telling their story in their own way while prompting them to share the parts of their story that connect with the goals of the initiative.
The most meaningful stories come from people with lived experiences of the issue, even though they may not be skilled storytellers. By giving people a voice, stories can help move the needle on community issues by helping people to:
Be aware of the need
Care about the cause
Understand the problem and solution
Feel a sense of urgency
Know how to help
Storytelling in Action
Community Story Strategies works with organizations to help groups and individuals create and share personal stories that send a powerful message. One ongoing campaign, It Starts with You, It Stays with Him developed by White Ribbon Canada and Le Centre ontarien de prévention des agressions, aims to inspire men to promote healthy, equal relationships with the boys in their lives. They used digital stories as a way for men to explore the experience and choices that shaped their identity as men. The stories were then used as a classroom education tool to prompt discussion on topics such as societal pressures for young men and boys to conform to stereotypical and rigid ideas of masculinity; the importance of gender equality and the impact of violence against women and girls (and men and boys); fatherhood; and homophobia. See the Digital Stories and Discussion Guide.
Digital storytelling is powerful way of sharing personal experiences in a way that can communicate social impact. Effective digital storytelling needs clear goals, identified target audiences, and specific objectives in capturing the stories. The most meaningful stories will be personal, authentic and offer insights and experiences that can articulate and measure change and impact in a person's life.