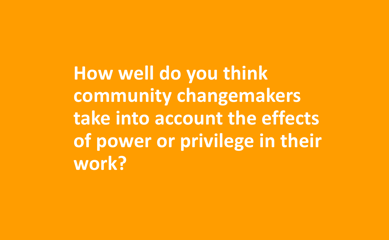 Over the past few years, the Tamarack Institute has been exploring the role and impact that power and privilege have on community change work.
This concept has come out in a variety of ways, from shifting to participatory or collaborative evaluation practices, to valuing the work of context expertise or those with lived/living experience.
We've also hosted a variety of conversations that dealt more directly with the impact of power differentials in community change work. Last year, we sat down with Paul Schmitz, Senior Adviser at FSG, about the need for both influential champions (grass tops) and community stakeholders (grass roots) to work together to build communities which include all voices. The main question we tackled was "if we know that community change processes that include and empower community members are both more empathetic and effective, why is the community so often excluded from the processes that are designed to serve them?"
Last year, we also hosted a conversation with George Aye, founder of Greater Good Studio. George previously gave the keynote address at the 2018 and 2019 Community Change Festival, and joined us to give an overview on the role power differentials play in community change work, and an exercise to identify these differences exist in our own work. From his perspective as a designer working in the social sector, he brought forward three key ideas:
Power Asymmetry affects your relationship with clients and the people that they serve
Privilege is not evenly distributed - not everyone can take the same risks
Power and privilege shape your world
The response to these resources and conversations has been overwhelming. To continue the discussion, we're excited to partner with George Aye to bring a new event to Vancouver, Calgary, and Toronto this spring. Designing for Social Change: Understanding the Effects of Power and Privilege will equip you with practical experience and knowledge about how to elevate the voices of key constituents and stakeholders. George will be sharing an interactive exercise that will ensure that you will walk away with new techniques, perspectives and understanding about how design influences outcomes.
If you are interested in learning more about how to elevate the voices of context experts, community members, or members of marginalized groups in your work, we encourage you to join us for this workshop.
Take Your Learning Further: