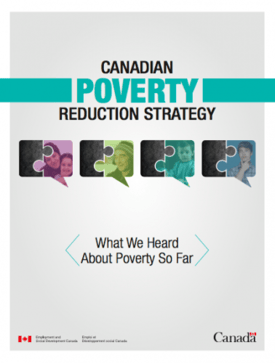 The Honourable Jean‑Yves Duclos, Minister of Families, Children and Social Development, announced the release of the Canadian Poverty Reduction Strategy: What We Heard About Poverty So Far report, on Tuesday February 20th via a Facebook Live broadcast.
The report captures invaluable feedback contributed by Canadians through a large-scale Employment and Social Development Canada (ESDC) nationwide Canadian Poverty Reduction Strategy public engagement process.
The process was started in February 2017 with events led by Minister Duclos, Parliamentary Secretary Adam Vaughan, other Government of Canada ministers and Government officials, and projects led by National Indigenous Organizations, Tamarack's Vibrant Communities (VC), and the consulting firm Ference and Company.
Engagement tools included community-led sessions, Government of Canada officials-led sessions, roundtables with stakeholders and Indigenous leaders, public town hall events, the Tackling Poverty Together Project, the #ReducePoverty in Canada youth contest, a National Poverty Conference, and email and online submissions.
Tamarack's Vibrant Communities and its Cities Reducing Poverty (CRP) network contributed to the public engagement process in a number of ways:
The Tackling Poverty Together (TPT) project's in-depth study of poverty in six cities across Canada included Cities Reducing Poverty member cities of Saint John, Winnipeg, and Yellowknife.
Through a partnership with ESDC, VC supported 27 CRP members to host 33 consultations across 9 provinces and territories, representing over 600 participants.
VC submitted a

formal online submission by way of a

brief to HUMA, the Standing Committee on Human Resources, Skills and Social Development and the Status of Persons with Disabilities, as part of their study of poverty reduction strategies.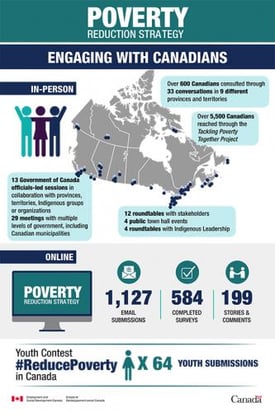 Overall, more than 8,000 Canadians were engaged in the Government's engagement process, including First Nations, Inuit and Métis people, academics, researchers, stakeholders, service delivery organizations, youth and people with lived experience of poverty. The process engaged them to share their personal and professional stories, experiences, and ideas.
The What We Heard About Poverty So Far report reflects the diverse needs of Canadians affected by poverty, including issues of inability to meet basic needs, challenges with joining the middle class, risks of slipping into poverty, experiences of First Nation, Inuit and Métis people, service delivery, and targets and indicators.
ESDC's media release for the launch of the report shared how Canadians are seeking "real, tangible results from their government with solutions that address the root causes of poverty" and that achieving this will "require bold and measurable solutions that are inclusive and work to address different aspects of poverty faced by Canadians, as well as setting measurable targets to reduce poverty."
"I am pleased to release the What We Heard report, which I believe is a great step towards a better understanding of poverty in Canada. I am grateful for the level of commitment demonstrated by all those who participated and am honoured to help turn results of this engagement process into positive change as we develop a Canadian Poverty Reduction Strategy. It is by working together that we can make a difference in reducing poverty in our communities, and help all Canadians have a real and fair chance to succeed."
– The Honourable Jean-Yves Duclos, Minister of Families, Children and Social Development
Canada's first-ever Canadian Poverty Reduction strategy will draw on findings from the What We Heard About Poverty So Far report, and is expected to be released in late 2018.

Read More: