When a sufficient number of people adopt an innovation in a social system, the innovation can become self­sustaining and create further growth. Are we at that point of critical mass for Collective Impact?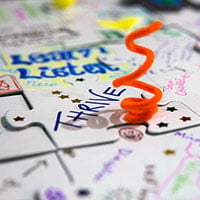 At the recent Champions for Change: Leading a Backbone Organization for Collective Impact (C4C) three­day workshop in Calgary, Alberta, 270 participants from Canada, the United States, as well as Belgium, Denmark, Ireland and New Zealand came together to learn and share their experiences with leading Collective Impact initiatives.
"Talking about the countless dimensions of systems change with these colleagues ­ both new and old ­ is always an eye­opening experience," writes Jess Meyer of the Colorado Coalition for the Medically Underserved (CCMU). Launched in 1997, CCMU seeks positive change for all Coloradians in the health system and has been part of several collective impact movements in communities across the state.
In her blog, Gaining Perspective is for the Birds (And the Worms) Jess writes, "One of the biggest lessons I've walked away with this week is about perspective," Jess continues. "A bird's eye view ­ the kind that shows us the big picture, keeps our priorities straight, and identifies new opportunities ­ is critical when you're working in collaborative strategies and the health system. However, a worm's eye view ­ the kind that reminds you of your personal role and situation, lets you work through the details, and keeps you grounded ­ is important for leadership growth and development."
Mette Margrethe Elf, another C4C participant, shared her reflections in her blog Collective Impact: An Action Tank. Not a Think Tank. Mette is head of Collective Impact at Realdania, a member­based philanthropic organization whose mission is to improve quality of life for all through the built environment throughout Denmark. Realdania supports projects in cities, buildings, and built heritage. Mette believes that the Collective Impact approach is the way forward for her organization's work.
"At a time when there is noticeable pressure that is the result of complex challenges to society, the demand for new ways of thinking and a public economic framework that is in decline, Collective Impact is perfectly timed as a working form," she writes. "Whether we are able to translate the working method to actual results in a Danish context remains to be seen, but is definitely worth a try."
We're not sure if we're at the point of critical mass just yet, but all signs indicate that Collective Impact is gaining momentum around the globe.