The City of North Vancouver has a bold vision: to become the "healthiest small city in the world". To realize their vision, the City's Mayor and Council have five key goals: to become a City for People, a Liveable City, a Vibrant City, a Connected City and a Prosperous City.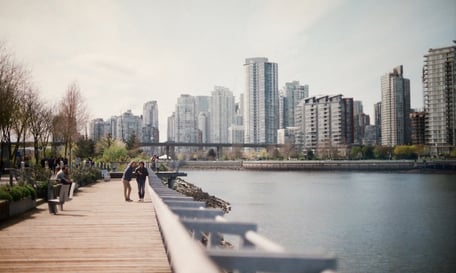 When the pandemic hit, the City established the Mayor's Healthiest Small City Social Resiliency Collective to help foster social recovery. The Collective brought together community leaders from across a variety of sectors. The mandate of the Collective was to support and strengthen the City of North Vancouver's social resiliency and connectivity as part of its COVID-19 response and recovery efforts.
Their main goals were to:
develop a shared understanding of assets, gaps and opportunities in the City

identify several projects that could quickly be launched that would strengthen the City's social connectivity and resilience

develop a model for shared leadership and ongoing collaboration.
The SFU Morris J. Wosk Centre for Dialogue facilitated an innovative process for the Collective. Together, the group looked at what strengthened their social resiliency during the pandemic response and explored what community gaps or needs became more apparent. They developed shared goals for enhancing social resilience and connectivity within the city and developed a pool of ideas for "quick start" projects. These projects aimed to advance equity and diversity while also helping people feel more connected, building their capacity through meaningful participation, and setting the stage for residents to be willing to help others.
The five projects they came up with were:
COVID-19 Community Connection Mosaic: individual storytelling through images, organized into a community public art mosaic that explores COVID-19 experiences
CityAlive: artistic performances as random acts of 'pop-up' community art by animating outdoor public spaces and encouraging neighbourhood connections while maintaining a physical distance.
NorthVanStories: capturing and sharing digital stories to foster deeper, more meaningful connections between individuals and communities across the city.
Hello Neighbour: a postcard campaign to encourage City of North Vancouver residents to connect with one another and foster a sense of community within neighbourhoods.
Expanding Technology Access: strengthening the connection and reducing isolation by improving access for those with limited access to the Internet.
As the City of North Vancouver continues their COVID-19 response and recovery efforts while seeking to create a more socially resilient and connected community, it can continue to build on the success of the Mayor's Healthiest Small City Social Resiliency Collective. This is an innovative and inspiring model of community collaboration that other cities across Canada can turn to when looking for ways to engage community stakeholders in fostering social resiliency.
What are some possible "quick start" projects in your community that might help residents feel more connected? Do any of the project ideas listed above resonate with you or align with something happening locally in your community?
Take your learning further: