I can appreciate the countryside but for me, the city is where it's at baby--best invention ever! Great cities are bustling, densely populated, diverse and exhilarating. The movement of people within a great city is a priority, and so a great city takes very seriously its transportation networks which include, of course, its streets for walking and biking and getting around
sans
automobile. The point is, great cities do not prioritize vehicles; they
do
put people first.

Sadly, this is not the case in my city of Hamilton, Ontario.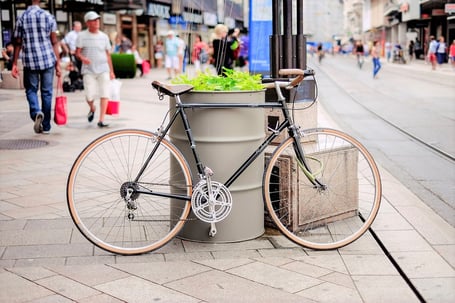 So when two non-profit groups,
Environment Hamilton
and
Cycle Hamilton
received a
seed grant from the Ontario Trillium Foundation to engage Hamiltonians in conversation around creating safer conditions for walking and cycling, I had my doubts. Hired to roll out the
Friendly Streets
initiative within three downtown neighbourhoods, I expressed concern to my coworker on the one year pilot project: was this project going to be talk and more talk? What about the concrete action we desperately need to curb our car-addicted city? The project premise seemed weak. If someone had told me then, that two working groups would emerge from the project, plus a smaller one taking shape, I would have have scoffed. But months in, that's exactly what happened.
We started out by exploring a simple question: What is a friendly street? What does a friendly street look and feel like to you, the senior in a wheelchair, the youth on the way to school, the mother pushing a stroller, her two older children in tow, the cyclists, the business owner, the traffic engineer? We wanted to hear from those vulnerable road users especially--those who don't typically show up at city planning town halls, or are too busy, because how can communities expect to have good streets without the input from people who use them daily? In listening, I learned that there is tremendous power in putting people face to face for conversation. And through conversation, it became clear that we live in a city of conflicting aspirations and varying expectations. We could, however, all agree that safer streets benefit everyone.
"I hate bike lanes," said one guy. "Cyclists are always pulling out in front of drivers. They should learn the rules of the road."
Talking some more, it turned out that he didn't really hate bike lanes, he even used them himself. Rather, it was that according to him, cyclists need to share the bike lane with other cyclists, and there needs to be patrolling of the lanes.
"You see signs on cars, saying share the road.I would ride more if people shared the bike lane."
Common Language
I learned that to be heard, to be understood, we need to find language that resonates with those we were reaching out to. We must meet people where they are: their mindset as well as their physical space. Take the Hamilton General Hospital, the epicenter of our engagement exploration. It was not until we began using the term "the patient journey" (an idea we lifted from a brilliant Ph.D. policy planning student)--that the journey began well beyond the hospital door, indeed, it began at the house--that senior staff got it. They got it so perfectly, they jumped on board. Mini working groups emerged from this concept: a pedestrian crossing is in the works with the ward councillor's blessing; alternative bike routes to the hospital are being tested, a transit group to connect the General with another hospital in the area via the bus, a beautification group to plant pollinator species and trees, a truck reroute group has just begun looking at possibilities--all this, under the umbrella of a "Hospital District" in the fashion of the Vancouver General, captivating imaginations with this vision.
Even naming the project "Friendly Streets" was an intentional use of language to convey a sense of streets as welcoming everyone, that as non-car drivers, they are enjoyable to be on.
Beasley
City streets are a public realm, but you couldn't tell from the streets in the Beasley Neighbourhood. In this part of town, the car rules and is accommodated all the way, at the expense of community residents. The more I got into it, the more I really understood that whether it's the streets where pedestrians and cyclists in this neighborhood fear for their lives, or whether it's about gentrification issues and who gets to live in the city and who is pushed out, Beasley is a poster child for spatial injustice. Residents here often refer to their community as the "sacrificial lamb" when it comes to traffic movement. The Beasley neighbourhood has many newcomers and one of the lowest income this side of Canada. Industrial pollution is high, tree canopy poor, sidewalks are narrow. Why should it be this way? But the neighbourhood has plenty of services and assets, and best of all, a vibrant, highly organized neighbourhood association. "To improve the quality of life for people who work, live and play in the Beasley neighbourhood" is the vision of the association, and safe streets is one of the most obvious paths in this direction.
So Friendly Streets has to do with the
experience
of the street, its vibrancy, its liveliness, its appeal. What makes people enjoy a street?
Certainly not the broken or unshovelled sidewalks, the lack of protection at a bus stop from the howling wind, the sun beating down on you, no shade, as you walk along tedious parking lot after parking lot!
Engagement Strategy
Taking a neighbourhood-based approach, we were looking at the broader picture of the community, the stories, the hidden treasures in the community, the potential of its many laneways, public art, cycle tourism and economic improvement. We were looking for natural leaders able to collaborate with us. Our strategy emerged when we realized that conversations were being organized organically around five main groups: residents, businesses, city councilors and staff, institutions, and organizations. Conversations were happening while doing street audits and walkabouts or speaking to seniors who were sitting outside their residence, or during a pop up with employees at the Hamilton General Hospital cafeteria, or going door to door to talk with business owners. We went to the staff at public health who helped us design our audits and public works helped with a flyer for people to understand the process of traffic calming requests.
We had many conversations over social media. Twitter and Facebook were handy in showing problems on the street with the use of videos and photos. People jumped in to add their voices and we were even able to connect over Instagram with the City's General Manager who was interested in seeing more business facade beautification programs used by the local businesses in the area, as well as the Hospital. Our project even developed an online interactive "desire" map that shows us problem spots, and places that could be enhanced with trees, and benches and public art. Finally, we developed a 14 module Friendly Streets Toolkit that pulls together our exploration of the best methods of engaging community members, collaborators, and organizational stakeholders in sharing their concerns and figuring out solutions together, as neighbours. Modules include sections on understanding the City's traffic calming and management policies, building support for friendly streets ideas, case studies, the aforementioned interactive "desire map," tips for business owners, additional active transportation resources, and tips to start your own neighbourhood working group like a "Friendly Streets Cafe." It is a living document that will be frequently updated with additional tools, information pertaining to city services and plans, and resources.
Where are we now?
We were able to get more funding to continue the project, as there is much interest in setting up "friendly Streets Cafes" or working groups in other areas of the City as well as continuing the work we have begun. We're excited to take the project to the next level. And to think, it all started with talk!