How many "resilient streets" does it take to make a resilient neighbourhood or community? This is one of the questions that the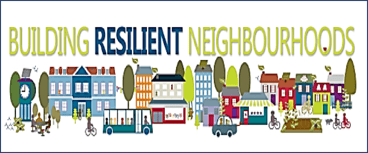 Building Resilient Neighbourhoods Project of Victoria BC has been exploring since 2014. Resilient Streets was born out of a year of piloting ways to engage neighbours with each other for the purpose of strengthening household and neighbourhood resilience. The goal was to get "beyond the block party" and find ways to increase connectedness, co-operation, a sense of agency, and a sharing economy among neighbours. Our Resilient Streets Toolkit, published in 2013, shared an array of different ways to support neighbour connectivity and action, based on our belief that the more options people have, the more likely they are to engage and connect.
From bulk food buying clubs and potlucks, to street birdbaths and boulevard orchards, street groups engaged in ways that were designed by -- and worked for -- them. Yet participants in this Resilient Streets pilot phase reported that the most significant outcome was getting to know their immediate neighbours on their street or in their building. Related to this, they experienced increased feelings of safety, attachment and belonging, well-being, and a sense of accomplishment together.
This year, Resilient Streets is being scaled out to neighbourhoods across Greater Victoria and will be piloted for replication in other BC communities. We are also updating and revising our Resilient Streets Toolkit to feature "inspiring examples" and "how-to" tips from across Canada and around the world. This is where we are hoping you can help. Your ideas are needed to add to an updated and enhanced Resilient Streets Toolkit. We are looking for stories and resources especially on these themes:
Celebrations & Gatherings
Placemaking
The Sharing Economy
Neighbour Networking Tools
Resilience Learning and Action
"Vertical" Streets (multi-familiy buildings)
Emergency Preparedness
Intergenerational Engagement (e.g. including seniors, youth and/or children)
Community Safety and Crime Prevention
Mutual Aid (neighbours helping neighbours)
Read more here about the Resilient Streets priority themes, and please share any examples of activities, stories, or implementation guides/tools to toolkit@resilientneighbourhoods.ca by February 10th, 2017
Learn More: