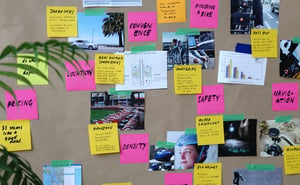 From youth homelessness and social isolation in cities, to food insecurity and income disparity, problems are getting more complex and in many cases, are getting worse. This is where the process of research and development (R&D) is highly relevant.
R&D is both a creative and disciplined process that when done well, reliably generates solutions that are radically more efficient and/or effective than current approaches.
R&D has been an essential activity for other sectors to uncover pathways to significant increases in impact and growth, and we know that R&D across social and environmental missions is already happening. However, to meet the social and environmental challenges of today we need to boost the quantity and quality of R&D happening across the social sector. To that end, The Social R&D Fellowship* invites you to participate in a study on research and development practices in social purpose organizations (e.g. non-profit and community-based organizations, public sector, etc.).
The study objective is three fold:
better understand existing R&D practices across the social sector and
assess the needs of organizations looking to strengthen their R&D practices and
uncover models to better support organizations looking to strengthen their R&D practices.
We're especially keen to have the Collective Impact community participate in this study as tight knit networks of organizations practicing strong R&D is a key ingredient to the creation of new classes/transformational processes, products, programs or services.
When completed, the results from this study will help capacity builders across the sector develop the supports that you need to help your organization better leverage R&D to uncover high-impact solutions to our most pressing challenges. Click here to participate in the study
Take Your Learning Further:
This study is Hosted by McConnell and Community Foundations of Canada, the Social R&D Fellowship is an ongoing effort to seed a vibrant ecosystem for R&D across the social impact sector. Strong R&D ecosystems (whether in cleantech, fintech, agtech, lifesciences, etc.) demonstrate again and again their ability to catalyze leaps in value creation. Why not for social missions?
The results of this study will be shared broadly across the sector, including with Employment and Social Development Canada who have just launched a $50Million over 2yr capacity building program that includes a Social R&D stream.